There is a great debate about skin types. The traditional normal, oily, dry, and combination breakdown has been critiqued so effectively, most recently by Renée Rouleau, who has produced a much more exhaustive skin types list that includes everything from wrinkles to blemishes.
Skin-type choice exhaustion is now a reality. But let's forge through it together. Here is a list of 12 moisturizers for every skin type, with a skin-type-mash-up that straddles the traditional (though criticized!) system and more elaborate taxonomies.
Sensitive Skin
If you struggle with sensitive skin, you know that what you're hunting for is a list of simple, noncomedogenic (non-pore-clogging) ingredients. You'll want to avoid drying alcohols, and perhaps even silicones. Here are some of my favorites for different skin types.
2 / 8
Dry
LXMI Creme du Nil Pore-Refining Moisture Veil
Lauded by beauty experts like The Skincare Edit, this moisturizer boasts an excruciatingly simple and natural ingredients list free of silicones and alcohols, topped by shea butter, glycerin, and squalane.
Oily
Biossance Squalane + Probiotic Gel Moisturizer
Again, another hyper-simple and natural ingredients list is partnered with a frothy, whipped, gel-like texture that absorbs immediately into the skin thanks to squalane. Squalane mimics a natural part of your skin's oil — squalene!
Clogged Pores and Buildup
If you struggle with pores that feel large and gaping, or maybe even clogged with whiteheads and blackheads that aren't inflamed, you might be lacking in exfoliation. It's possible to squeeze some chemical exfoliation into your daily moisturizing routine, and you might see more striking results in the long run by doing this instead of scrubbing your face with a harsh exfoliator! Keep an eye out for Vitamin C, AHAs (alpha-hydroxy acids), and BHA (beta-hydroxy acids).
Dry
Dry clogged skin is an exhausting challenge, since many exfoliating products tend to be packaged as toners or serums. But traditional moisturizers with glycolic and lactic acids (AHAs) are out there! Here a few great options.
3 / 8
Kate Somerville ExfoliKate Glow Moisturizer
With an ingredients list topped by squalane, lactic acid, glycolic acid, hyaluronic acid, and pumpkin fruit and radish root ferment, this moisturizer is an extreme multi-tasker.
4 / 8
Peter Thomas Roth 10% Glycolic Solutions Moisturizer
If you, like me, are picky about your acids, you might prefer this one. Glycolic acid is the only acid used in this product and it can be found in high concentrations. The moisturizer is otherwise geared towards calming and moisturizing, with aloe leaf, safflower seed oil, hyaluronic acid, and squalane.
Oily
Herbivore Prism Exfoliating Glow Potion
Another natural ingredients list partners with a serum-like texture to help keep your skin from becoming an oil slick as soon as you leave the bathroom. Herbivore's serum has a series of fruit acids in it that naturally produce the top exfoliating acids skincare junkies crave, namely lactic and glycolic acid.
Acneic Skin
Common anti-acne skincare ingredients are benzoyl peroxide, salicylic acid, and retinoids. I avoid benzoyl peroxide during the daytime since it can easily stain clothes, but salicylic acid is a great and simple bet. This beta-hydroxy acid resurfaces your skin and helps minimize the conditions that lead to the proliferation of acne bacteria on the face.
Dry
5 / 8
Sunday Riley U.F.O. Ultra-Clarifying Face Oil
Apply this to your face when it's still moist from washing to ensure it sucks up into your skin rather than sits on top!
Oily
Caudalie Vinopure Natural Salicylic Acid Pore Minimizing Serum
This serum-textured product balances moisturizing hyaluronic acid (sodium hyaluronate) with salicylic acid to keep you just as hydrated as you need to be while still treating acne.
Aging Skin
Many key ingredients can help stave off the signs of aging skin by exfoliating the surface of the skin and promoting collagen production. Favorites are retinols, which sensitizes the skin to UV rays, and alpha and beta hydroxy acids, which have the same effect. If you're in the market for moisturizers for aging skin, be particularly careful to wear sunscreen during the day! The sun is aging, so you might reverse all the hard work you're doing if you don't protect yourself from it! If you're concerned about the sensitizing effects, hunt for night moisturizers with retinols and acids and opt for anti-oxidant formulas during the daytime.
Dry
6 / 8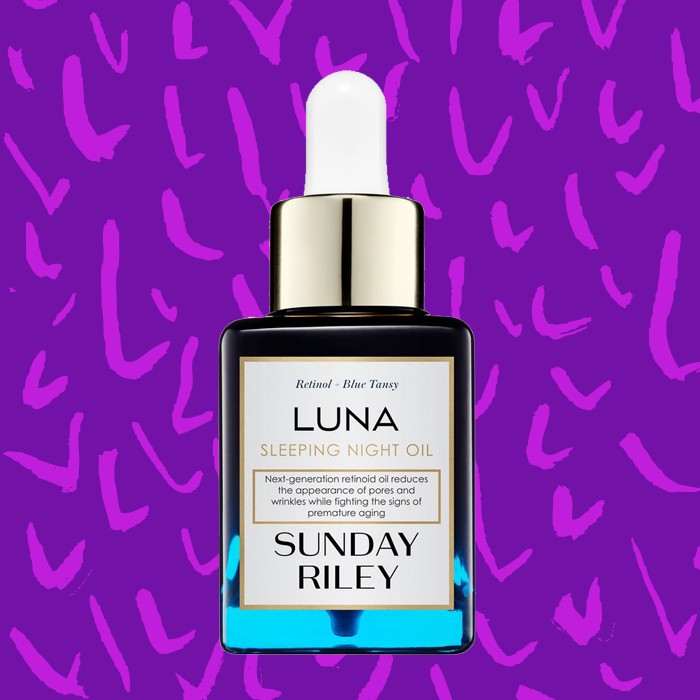 Sunday Riley Luna Sleeping Night Oil
Celebrated for her discovery of a retinol derivative that isn't as irritating as the original, Sunday Riley designed this night oil to be extra calming in comparison to most retinol-based products.
Sunday Riley Juno Antioxidant + Superfood Face Oil
For a dry skin and retinol alternative that you can feel confident wearing during the day, opt for this antioxidant-packed face oil with blackberry, blueberry, and cranberry oils.
7 / 8
IT Cosmetics Secret Sauce Anti-Aging Moisturizer
You can promote the production of collagen, or simply apply collagen to your face! Cosmetic scientists don't agree on whether topically applied collagen has long-lasting anti-aging benefits, but in the absence of useful studies on this question, we can listen to the reviews in the meanwhile. Users of collagen-based products champion their anti-aging benefits.
Oily
Retinol is hard to find in a serum-based, lighter product. But antioxidant serums are a popular cosmetic strain that you might favor anyway, as an oily-skinned person. Slapping on that sunscreen after your moisturizer is a sure-fire way to encourage the production of oils!
Caudalie Vinosource S.O.S. Thirst Quenching Serum
The Caudalie brand is based on their use of grapes and their natural antioxidant properties. This lightweight yet moisturizing serum with squalane and hyaluronic acid is topped by ingredients that pack the antioxidant properties of grapes. Keep an eye out for the keyword "polyphenols!"
8 / 8
The famous Truth Serum is a light and simple serum loaded with collagen and vitamin C. Vitamin C is a potent antioxidant and an essential component of any anti-aging regimen! With hyaluronic acid in the ingredients list, it'll ensure that your skin won't dry out but won't be overloaded with moisture either!
We have scoured the world of moisturizers, high and low, to group together lighter and heavier moisturizing options for you based on your concern. Do you have any beloved, tried-tested-and-true moisturizers that you use to address these concerns? Have you tried one of these? What did you think of it? We'd love to hear your thoughts in the comments!