Don't feel bad if the No Poo Method doesn't work for your lifestyle or your unique hair. Sometimes you just want to shampoo, and that is okay! If you are going to use a shampoo, we recommend using one that contains the cleansers your scalp needs without damaging your hair. And as a bonus, the ones on this list are all affordable and easy to find, too. 
Here's where you can find these shampoo goodies:
Target
Walgreens
CVS
Walmart

Your local drugstore

Your beauty supply store
Here are 11 drugstore shampoos under $11.

Suave Naturals Shampoo, $1
The good stuff:
Vitamin E extract promotes stronger hair that can withstand daily manipulation.
Spirulina contains a great amount of iron for bouncier curls.

JASON Tea Tree Scalp Normalizing Shampoo, $6.89
The good stuff:
Panthenol (vitamin b5″> encourages stronger, more elastic curls.
Australian tea tree oil totally removes product buildup from the scalp.

Desert Essence Jojoba Shampoo, $7.99
The good stuff:
Prickly pear is a vitamin-enriched super food that strengthens hair that feels super fine or is thinning.
Yucca extract coats the hair shaft with a shiny, healthy appearance.

Aussie Moist 2-in-1 Shampoo, $3.99
The good stuff:
Jojoba oil intensely seals moisture into thick, curly hair.
Australian Aloe nourishes a parched scalp that has been affected by excessive manipulation.

Freeman Papaya and Coconut Shampoo, $3.23
The good stuff: 
Papaya is a natural humectant, ideal for frizzy hair that lacks moisture.
Ginseng root extract naturally fortifies weakened or brittle curls.

Giovanni Tea Tree Triple Threat, $6.39
The good stuff:
Tea tree oil penetrates deeply for the best kind of clean.
Peppermint botanical invigorates a super dry, flaky scalp.

Nature's Gate Aloe Vera + Macadamia Oil Moisturizing Shampoo, $7.99
The good stuff:
Macadamia Nut Oil replenishes the vibrancy in hair that has become dull or coarse from styling products.
Aloe vera provides excellent slip for pesky knots.
ShiKai Natural Everyday Shampoo, $6.49
The good stuff:
Glycerin coats the curl, giving long lasting definition.
Shiitake extract makes hair feel much softer during and after cleansing.

Avalon Organics Shampoo, $7.09
The good stuff: 
Biotin is known to promote fuller, thicker hair for those experiencing thinning
Saw palmetto energizes the scalp, encouraging fuller feeling strands

Weleda Wheat Balancing Shampoo, $11
The good stuff: 
Sage leaf protects the hair from excessive breakage.
Rosemary oil prevents any fungal or bacterial infections from thriving in the scalp.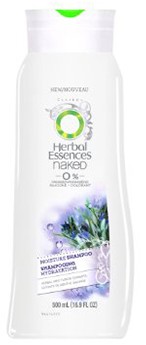 Herbal Essences Naked Moisture Shampoo, $3
The good stuff:
Mint fusion extracts get rid of the grime and dirt of the environment and styling product.
Peppermint oil clarifies the scalp and leaves an invigorating feeling on the scalp.