Toccara Ross is a professional basketball player who is a strong advocate of natural hair and an overall healthy lifestyle.
Shortly after graduating and playing at Iowa State University, she played abroad in France, Puerto Rico, Australia, Taiwan, Ecuador, & Colombia. On the court she is currently playing in Espoo, Finland and off the court she edits and generates content as the the co-founder of the blog Curly Deviants. 
NaturallyCurly: 

Tell us about your curly hair journey. When did you go natural and what inspired you?
Toccara: I should have gone natural a long time ago, back in college when I was sweating out my Mizani relaxers during two-a-days workouts. The fall of 2010, I decided now was the time and I was scared to death. I had never been too confident about my appearance, so cutting my hair was going to be a challenge. Before natural hair became this huge "trend" as some people may see it is, and before there was such a strong, supportive community, I was hairless with no idea how to take care of my coils. I wanted to grow it back immediately, but life happened and my decision to embark on a natural hair journey took on a whole new meaning. I made the decision to make one final cut and start fresh on Dec. 10, 2010, which was the day I buried my mother. This marked the start of not only my true natural hair journey but also the rebirth of my spirit; the metaphoric phoenix, rising from her ashes revealing something new, something stronger. My mother was my inspiration, not because she had natural (because she didn't), but because her passing made me plant my feet firmer on the ground and re-evaluate everything I thought I already knew. Cutting my crown was only step one.  

Have you ever received any negative comments about your hair? How did you respond?
Toccara: 
I remember posting pictures on social media and instantly the men in my friendship circle were in shock. My hair at one point laid on my shoulders, and it had this beautiful natural auburn color. They couldn't understand why I would cut it all off.  
Also, after growing my hair to what I felt like was a great length (it had some bounce to it when the wind was blowing), I sent my sister a message showing her my progress. I don't think I will ever forget that day. There was so much hate in the message: "Your hair is so nappy, men do not like nappy hair, ect." At a time when I wanted to share a part of my growth with her, I only received a closet of snippet nastiness. That conversation changed me for the better.

There has been a lot of conversation on the web surrounding the underrepresentation of 4c hair and the maintenance demands. As a woman with 4c hair (and killing the game by the way), what are your thoughts about those issues?
Toccara: 
Natural hair is not for everyone. We all decide to take this journey for many different reasons. The demands created to maintain healthy hair can be a bit more extreme as opposed to relaxing. I will say that when I first went natural, there were not many representations of women with 4c hair. This is why Co-founder Shannon Bennett and I started our blog, Curly Deviants, in order to document our process of returning to our natural hair texture. There we want to showcase and represent 4c women in a positive and affirming light. Almost immediately this amazing community developed via social media showcasing all textures of natural hair, from women of color, with all hair types. While the visuals for women with 4c hair were limited, there were quite a few. Jenell from Kinky Curly Coily Me was the first visual image I saw of someone with similar hair texture as mine. At this current time, I do not think there is an underrepresentation of 4c hair women who are capable of sharing the proper knowledge to help others also maintain their hair. 
How do you protect your hair from the cold in the winter and from the UV rays in the summer?
Toccara:  During the season abroad (which happens to be during the winter months), my hair is always in a protective style. My go-to protective style right now is mini twists. Generally I can keep them in my hair for 2-4 weeks. I do not prefer to keep them in any longer as my hair tends to lock rather quickly, causing breakage. I have some amazing friends who make me this special shea butter concoction that moisturizes and seals my hair like nobody's business. I love wearing my hair out in the summertime, but since I live in the desert my hair catches an attitude very often. I find myself spritzing my hair with water hourly. I have also started adding raspberry seed oil to my summer regimen, as it has one of the highest SPF levels.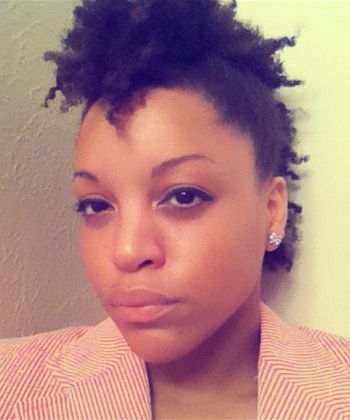 What is your current regimen?
Toccara: I recently got my first Curl Box, which I am sad I had to cancel because there was no way I would be able to receive all my boxes while playing basketball abroad. Within that box was a line called Clean Scalp and Hair Beauty Therapy. It was amazing! My hair loves the entire line: Ultra Shea Cleanse and Nourish Shampoo, Ultra Shea Smooth and Nourish Conditioner, Deep Nourishing Treatment Mask, and Ultra Shea Nourishing Scalp and Hair Oil. 
What does your hair love?
Toccara: 
My crown loves natural ingredients. She adores shea butter & mango butter. I'm finally hip to the game on avocado oil for 4c hair sealing. Another must have is water. 
What does your hair hate?
Toccara: My crown does not like gels or mousse of any sort.

How do you style your hair when you're training and what are your go-to styles on game day?
Toccara: While typically in a protective style already, I also wear a ponytail on game days only, which is generally once a week. Any other time, I use a dry fit hair band or scarf to help counteract sweat. 
We've heard from a lot of women who don't want to exercise because it interferes with their hair routine (have to wash and style more). What advice do you have for them?
Toccara: 
Lies, fairytales, & fallacies. There is no excuse to not maintain a healthy, active lifestyle. There is always a way, from dry fit hair ties/scarves, to using the pineapple technique, and even amazing protective styles that are work appropriate. At the end of the day, your health is more important than maintaining a certain hair routine. You can still break a sweat and pull it all together in time to head back to the office. 

What are your must-have products?
Toccara: I refuse to go overseas without two of my favorite products are SheaMoisture Curl Enhancing Smoothie and Trader Joe's Tea Tree Tingle Conditioner, which I consider the 4c girls' holy grail when detangling. 
Do you have any advice for women with coily hair?
Toccara: Be patient with yourself and your hair. Not only will this aid in amazing growth but you will learn a lot about yourself during the process. Also, realize what works for others, may not work for you. Unfortunately, there is time, effort, and money you may have to invest to seeing what works for you. The end result is generally better knowledge on how to protect your crown. And how you protect your hair will translate to other aspects in your life as well.