I am Winnie Elizabeth Caldwell, named after Winnie Mandela and Queen Elizabeth.
I currently live in St. Louis, MO and I am a proud full time mommy and full time blogger. After almost three years of blogging, I've began a career teaching teens how to blog at a local college here in my community.
I have been natural for about three years. I actually felt it was best for my hair. With relaxers my hair would always break off really badly and I realized when I left it alone, it grew naturally, beautifully.
My favorite products have to be 
Design Essentials Oat Protein Henna Deep Cleansing Shampoo, 
Design Essentials Almond and Avocado Leave In Conditioner, 
Blueberry Bliss Curl Control Paste (They keep my edges slayed and laid!), and 
I love massaging my scalp with organic coconut oil.
I started a blog called The Wire Hanger By Winnie. It is a faith-based blog for aspiring entrepreneurs. My blog is a safe haven for go-getters to get some inspiration and guidance career-wise. I help others to start their own blogs and by doing that I learn new things everyday. I'm always placed outside of my comfort zone, in a good way. Catering to others adds more value to me as a blogger and also as an instructor. Want to be a celebrity makeup artist, a costume designer, or even a business owner? On my blog, you get to see a plethora of interviews of people who will inspire and help lead you to your dreams.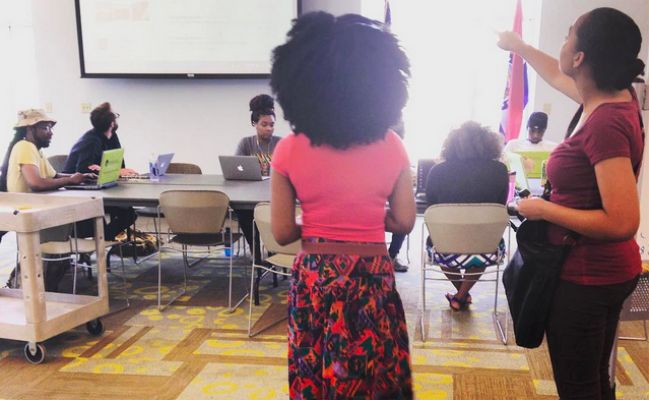 My blog offers inspiration for any faith belief.
I've interviewed those who didn't believe in Christianity but they believe in a higher power. And that is just fine. I highlight anyone's belief as long as their respectful. Also my blog offers counseling to those suffering anxiety or depression every other Tuesday! Lastly, I help my followers reach their dreams by going the extra mile. Through my attached store, I offer services such as resume revising, career consultation, and more. You'll do more than read or listen to an interview; you will get blessed!
Regardless of the trials and tribulations I have endured, I never let them take me off course.
Bishop T. D. Jakes once said, "People with great instincts always transform what they are given to more than what it was when presented to them!" This quote means a lot to me as a Black woman who is also a single mother. I had my son at 17. I could have easily been just another statistic but my instinct didn't allow that. Regardless of the trials and tribulations I have endured, I never let them take me off course. Instead I used those challenging moments to push me harder. I always laugh at challenging moments because each time a big blessing isn't too far away.
Every woman holds the key to her own destiny.
A man, a relationship or job does not determine your destiny. You hold the power. We as women are emotional creatures, regardless of how it's showed. Have your moment briefly to vent or cry. But don't allow let downs of relationships, family or work deter you from your dream. How you react affects your future. React with positivity and authenticity at all times.
Find me on Twitter: @WinnieElizabeth, Instagram: @thewirehangerbywinnie, and my blog of course: Thewirehangerbywinnie.com.