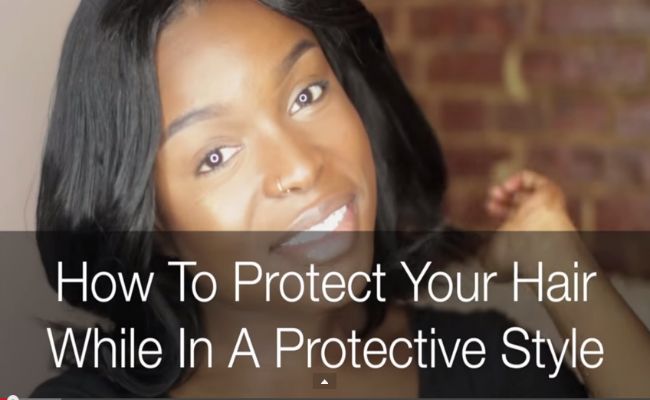 A lot of people often ask me how to protect their natural hair healthy while rocking a protective style wig. If you stay tuned and watch my video below I will give your more information on a giveaway. I will quickly run through a quick tutorial of how to protect your natural hair and install a wig on top of it with minimal breakage.
Seal in moisture throughout the duration of your protective style.
I am guilty of spraying my hair down, trying to shrink it as much as possible, and then putting a wig cap over it. This sometimes causes breakage and lumpiness when wearing a wig. Make sure you continuously moisturize your hair in preparation of wearing a wig. I use the SheaMoisture Yucca & Baobab Frizz-Free Shine Mist because it does not give cause scalp build-up, it's moisturizing, and the ingredients prevent breakage. It's also convenient to seal with because of being in a spray bottle.
Flat twist with your part in mind.
I flat twist my hair to make sure all of the ends are sealed and tucked away, so they cannot come out. I also make sure that I braid keeping my part in mind. For this style since I want a middle part, I twisted around my middle part so I don't have to worry about messing with my wig during the week.
Get a wig cap that fits.
If you can find a spandex cap that securely fits your head, that is important. Today I am wearing a taupe one, but usually I like to wear a black one. I keep my front edges out and then push back or cover any other hair. I have a 'petite' head--my measurements are according to EvaWigs' buyer's guide.
This wig comes with two clamps on either side by the ears as well as a clamp in the middle. It also has an adjustable band. I did not secure the band in the back. That will bring more attention to the side clamps by my ears. I like to create a "messy" loose curl on this straight hair; I am going for a Kerry Washington-esque hairstyle.
The giveaway!
You will receive a $200 gift certificate that can go toward any wig by EvaWigs!
First, subscribe to my YouTube channel- Paville Aldridge. Follow @EvaWigs, @NaturallyCurly, and @Pavilleis on Instagram. Repost the pic on my Instagram account and use the caption that you see in my caption. I will choose the winner April 24, so the giveaway closes on April 23, 2015. This giveaway is open internationally.