Every Red Carpet season we are met with a parade of "bombshell curls" and "Old Hollywood waves." But take one look at these curls and waves and we know that these can't be achieved without a little (or a lot) of heat styling action. With this year's SAG Awards we were treated to Viola Davis's TWA, Tia Mowry's natural curls, and Lupita Nyong'O's stunning updo. If you have a formal event coming up, or even if you don't but just feel a little bit fancy, then this updo is for you.
Our Account Manager Kami admits she'd wear a gown to work every day if she could, so she tried out Lupita's updo this week - just because! When it comes to Lupita's cornrows you can recreate this look by either flat twisting or, if you have the patience and the skill, braiding. Kami went with a simplified version of flat twisting since we thought that might be easier for readers to follow along at home.
What you'll need
Directions
Step 1
Start with freshly washed, detangled hair.
Step 2
Part the hair in a circle around the crown of the head, leaving a puff in the middle.
Step 3
Create a side part and begin flat twisting from the front of the hair, curved to the right. Apply edge smoother and styler to each flat twist for hold and to prevent frizz.
Step 4
Continue flat twisting around the ponytail from the hairline up to the crown of the head until all of the hair has been braided.
Step 5
Take 4 strands of Marley braid hair, and starting from the side part, incorporate the ends of the flat twists into a classic 3-strand braid with the Marley braid hair, braiding around the puff, adding more Marley hair as needed.
Step 6
Wrap the end of the Marley braid around the puff and secure with bobby pins.
Step 7
Fluff and shape the puff in the center using your styling gel.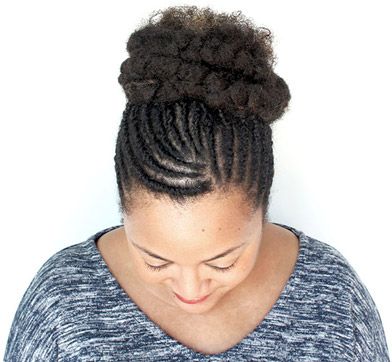 The finished look!
If you try this look at home be sure to tag @NaturallyCurly on Instagram so we can share your photo!