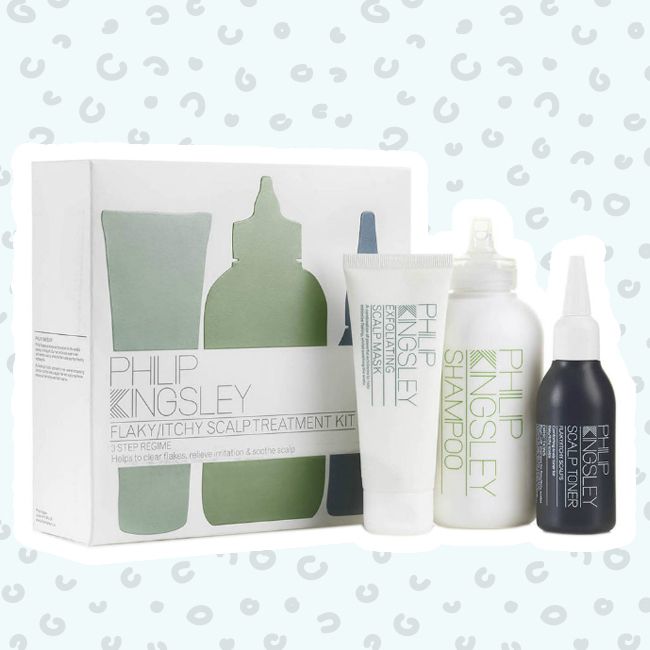 If you are looking for a line of products that get rid of flakes without irritating the skin, you should try Philip Kingsley's Flaky Scalp Treatment Kit. These products soothe the scalp and help remove flakes that can be hard to remove with shampoo alone. 
If you suffer with flaky scalp and have tried countless products for your dandruff that irritate your skin or don't work, this three-step kit will make a difference. The first step is a creamy mask that helps soften flakes prior to cleansing. Using your fingers, massage the Philip Kingsley Exfoliating Scalp Mask to your scalp to loosen and remove dandruff.
Philip Kingsley Exfoliating Scalp Mask
The Philip Kingsley Exfoliating Scalp Mask has propylene glycol, which is a humectant that attracts moisture to the scalp without leaving buildup. Another ingredient to mention is the aloe barbadensis leaf juice, which will help soothe a tender and itchy scalp. There's also exfoliating properties from zinc PCA, a skin conditioning agent that has astringent and antimicrobial properties.
Apply the mask to your scalp before you shampoo, but make sure your scalp is damp. This will loosen the flakes and help the ingredients to penetrate more. Leave the mask on the scalp for 10 to 20 min. I always put my clients under the steamer during this step. It helps soften the skin and remove stubborn flakes that pile up in layers on the scalp. The steamer will also help soothe the skin.
I used the Exfoliating Scalp Mask on a client who suffers with scalp psoriasis with silvery, white patches of flakes that feel hard. I gently applied the mask, massaged her scalp for 5 min., and placed her under the steamer for 20 min. When I rinsed the mask from her scalp, the patches had loosened up significantly, whereas before they are not easy to break down.
Although the Exfoliating Scalp Mask works well for removing stubborn flakes, it is expensive for the amount of product that you get in the bottle ($30 for .67 oz.). Depending on how often your flakes return, you may end up spending a lot of money if you see results and would like to continue using the product. Unfortunately, flakes cannot be cured, only controlled.
Philip Kingsley Flaky Scalp Shampoo
The second product to use is the Philip Kingsley Flaky Scalp Shampoo. After you rinse the mask from your scalp, use the shampoo to cleanse and remove dirt and scales from the hair and scalp. I like the shampoo because it cleanses without drying or irritating the scalp, which tends to happen with some dandruff shampoos.
The second ingredient in this shampoo is tea-lauryl sulfate, which is a harsher surfactant, but this shampoo did not have any drying effect on any of my client's hair. The third ingredient is lauryl betaine, a mild surfactant with conditioning properties found in shampoo, shower gels, and other cleansing products. The cleansing ingredients seem to work fine a variety of textures, but the only way to know if the shampoo will work for you is to try it out for yourself.
Philip Kingsley Scalp Toner
The last product to use is the Philip Kingsley Scalp Toner. The toner helps to rehydrate the scalp and has astringent properties that help absorb excess oil. Apply after you rinse out your conditioner.
The Philip Kingsley Flaky Scalp Toner has camphor, which can help reduce pain caused by irritation or chronic scratching. Camphor helps reduce itching and fungal infections. To avoid further irritation of the scalp or burning, it is best to let those wounds heal before using this product if you have open cuts or bruises on the scalp.
The active ingredient found in the scalp toner is piroctone olamine. It is an ingredient found in products such as over-the-counter dandruff shampoos, and other topical skin products used to fight fungal infections of the scalp. Malassezia is a common fungus responsible for dandruff. Piroctone olamine combats malassezia and helps reduce more of this fungus from growing. It helps minimize itching and can prevent hair loss, which is a common symptom of certain types of scalp disorders that cause scaling on the scalp.
You can use the scalp toner throughout the week to minimize dryness and irritation. It can be applied to wet or dry hair and comes in an applicator bottle that helps to drop the toner where you need it the most on the scalp.
My other client that comes into the salon for scalp treatments has been using The Philip Kingsley Scalp Toner without using the other two products, and I noticed she had less redness on her scalp and a significant reduction of flakes. She said since using the toner, she shampoos her hair less.
The Philip Kingsley Flaky Scalp Kit is working great in the salon and at home. It is easy to use. Although how the system works may vary for everyone, it is worth the price, because once you notice a significant change in the amount of flakes that appear on your scalp, you can use the kit less or reserve it for flare ups.
Have you ever tried the Philip Kingsley Flaky Scalp Kit? Did you see any results you would like to share? 
Read How to transition with your scalp condition? 
Learn 8 Dandruff Myths You've Probably Fallen For.  
My hair is oily and stinky what do I do?