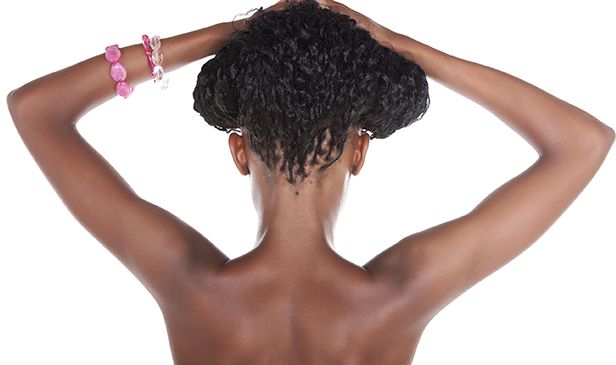 Thinning edges can be a traumatic experience, especially when you are not sure of how to treat them. Thinning edges can be caused by hairstyles that pull the hair too tight, constant friction on the edges, and improper hair care practices. It can be quite frustrating, but it does not have to be any longer. Below you will find eight temple treatments that will help to restore your edges.
This temple balm will provide your hair with moisture and hold, while making your edges stronger. Peppermint oil is formulated in this balm to stimulate the scalp. If you want a treatment that will protect your hair and help smooth your edges, this is a good choice.
The organic shea butter is included to retain the hair's moisture and Jamaican black castor oil is included to repair the hair. This product has a jelly-like consistence, which stands out from usual edge treatments. No flaking or crust here.
Herbal extracts are included to repair thinning hair. Gently massage the product on the thinning areas. This product is a good choice that can be easily accessed in your local beauty supply and drug stores.
Dr. Miracle's Temple and Nape Growth Balm will help stimulate blood flow, which aids in hair growth. This product can be applied to the temples and nape. This is also a product that is easily accessible and affordable, so this is perfect for our budget friendly curlies.
This product can be used to strengthen and smooth edges. Bamboo and garlic extract is included in this edge tamer to make the hair stronger. Apply to edges and smooth gently. Using your fingers would probably be the best choice but if you like to use a brush, make sure the bristles are soft.
This hair oil includes basil oil and peppermint oil, which increases circulation in this scalp. When your scalp's circulation is increased, it may promote hair growth. Apply this oil to the temples and edges that are thinning.
Yucca aids in thicker hair with hair growth. An anti-breakage mask is a product to invest in when growing healthy and full edges. Deep condition hair and generously apply the condition on the edges weekly. Remember to be gentle while applying the treatment to your edges.  
Looking for a simple treatment? Use Jamaican black castor oil daily on thinning edges. Jamaican black castor oil will strengthen your hair. If you are a curly that is looking for a simple solution and want to use an option that does not include many ingredients, this will be a good option. We're trying out the Castor Oil Challenge here in the office and have really enjoyed seeing all of you share your progress, be sure to use the hashtag #heycurliecastoroilchallenge and tag @NaturallyCurly so we can see your results. 
What are your favorite temple and nape treatments? What are your favorite regimens to help restore and maintain healthy edges?