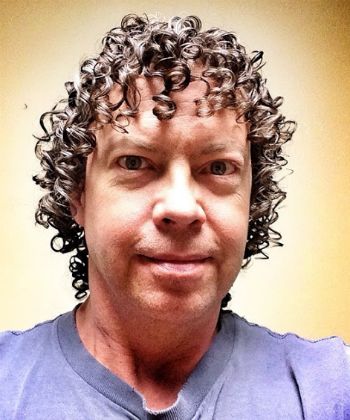 When curly YouTube vlogger Sarah, also known as Waterlily716, announced recently that she got a haircut, the community gasped in unison. We all know the apprehension that a curly girl feels when sitting in the hairstylist's chair. And that is why it's so important to find a stylist who is experienced with styling curly hair, and most importantly someone you can trust. Luckily for Sarah she was in the capable hands of DevaCut Trained Stylist Scott Musgrave. If you're looking for a trustworthy curl friendly services in your area, you'll want to first have a consultation. Here are Scott's tips for acing the curly consultation process.  
The consultation is the most essential step to gaining trust with a client. I truly want to know the client's fears, frustrations, concerns, current routine, and past experiences of working with other stylists and salons. Based off of the client's experience, I try to identify the source of the frustration whether it is bad-ingredient products that her hair type may not need, styling methods that are not working, or a lack of knowledge. From there I contrast her past experiences with what I do. 
When visiting a salon I encourage that you keep the following in mind.
 Scott's Tips
All curlies should have a better understanding of ingredients and products used by the stylist and salon.

Make sure the stylist cuts hair dry and uses little to no tension as he or she styles and care for your hair.

Demand that they do not use any thinning or chunking scissors. You also want to assure that they are not using any method of sliding down the hair with scissors, as this creates a variety of different lengths at the ends, which make it hard to control and manage over time as it grows out with thin wispy ends. 

When seeking help for your hair you need to research the stylists in their area. Check out salon reviews on NaturallyCurly Curl Salons

, Yelp, or online forums in the stylist's community to find well trained stylists that not only have training added to their repertoire of services, but are passionate enough to have 80% or more stylists working on curly hair clients and specialize in it more so than just a menu service. 

 

No stylist should scrape, slide, or slice hair with scissors or a razor, as it creates a lot of different lengths and thin wispy ends that are very difficult to manage and more so look bad as the hair grows out. You want a style to last 4-6 months and working with a razor makes the style and ends quickly look bad as the hair grows out. 

Sleeping on a satin or breathable silk pillowcase prevents the hair from pulling and losing moisture as it would using a cotton pillowcase.

 Use a t-shirt to scrunch the hair instead of using a towel. This will keep the ends healthy much longer. 
All of these tips also apply to shorter hair.
You can follow Scott Musgrave here:
Facebook, Curly Hair Artistry, and Scott Musgrave Hair 
Watch Waterlily716's New Short Haircut Video below: