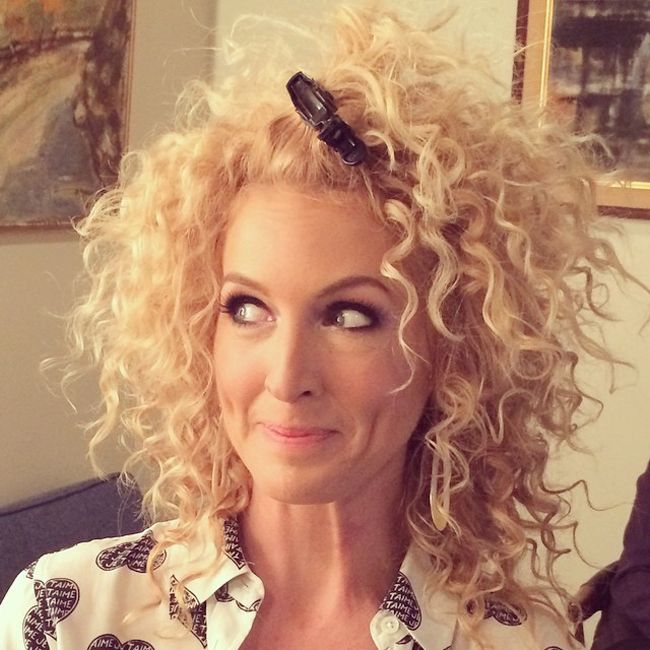 It's not often we see a celebrity with natural curls break out in the entertainment industry, and then continue to rock those curls throughout their career. We were all thrilled when Taylor Swift emerged onto the scene, and subsequently grew disappointed when her curls disappeared in favor of what the media called "chic" and "grown up" straight styles. Ariana Grande and Jennifer Lopez have both given rare sneak peeks of their curls, but these glimpses are few and far between. We understand that all women have the right to play with their look and wear their hair the way they like, and that includes straightening, but there is one curly songstress who I have never seen straighten her natural curls, and that is Kimberly Schlapman of the country Western band Little Big Town. She embraces her voluminous, blonde curls on stage, on the red carpet, in interviews, and on the cover of her cookbook Oh Gussie! Fans of the band are often clamoring for more information on Schlapman's signature curls, and here is what we found.
Her Holy Grails
We recently came across a video in which Schlapman shares her high end Holy Grails and their drugstore dupes. Celebrities, they're just like us! Every day she is approached by fans who say "I have curly hair and I hate my hair, what do you use" and Schlapman revealed that she has used many products over the years, but one of her favorite products is Indian Gooseberry Oil by Neil George. If you are not familiar with Indian gooseberry oil, perhaps you have heard of its other name Amla oil. Amla is also sold in powder form and is popular in the curly community, you can find out more about it here.
The Neil George oil that Schlapman uses is a salon product which may be difficult to find for some (though we did find it on Amazon), but she also likes MoroccanOil, which is pricey but available in many stores and salons, and FrizzEase which is a comparable drugstore dupe you can find anywhere. She applies the serum to her wet hair and then detangles and brushes her hair, "the only time I ever brush my hair is when it's wet, never brush it dry."
Then she follows up with a curl cream, her favorite is MoroccanOil Intense Curl Cream. Her drugstore dupe for the MoroccanOil cream is Rusk's Wired Flexible Styling Creme. To dry she sometimes allows her hair to air dry, but admits she does not do this often as "it takes forever to dry." Most of the time she speeds the process up with a diffuser.
Her diffuser secret
Schlapman's unique drying technique is to alternate between diffusing and air drying, so she will diffuse it for bit then stop and let it air dry, then later diffuse some more and then air dry again. If it begins to frizz during this process she'll touch her hair up with a small amount of the curl cream. And that is all she does!
In addition to products and drying technique, Schlapman stressed the importance of getting your curls cut by an experienced curl specialist, why you should avoid razor cuts, and laments the phenomenon of shrinkage. This woman knows her curls, and it shows!
Here are a few of our favorite curly looks from her Instagram, and you can watch the video below!
Watch the Video
Watch the new video "Curl Talk With Kimberly" and find out some of Kimberly's secrets to keeping her curly hair looking good.