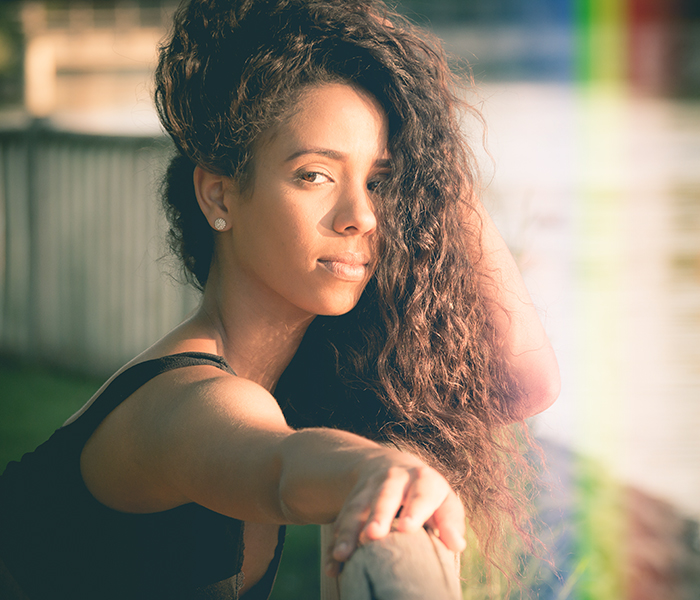 To say Dominican products are popular is a gross understatement. We know you are excited about them because you asked for more recommendations and you love their unique quality that other products just don't measure up to. What is the bottom line? Dominican women are the stress test for hair products because they are of African, European, Spanish, and indigenous ancestry all in different proportions and combinations. When you couple that with a tropical paradise that gets extremely hot, you have to master hair care to keep your tresses amazing. 
They have perfected hair care techniques and products over hundreds of years by using the natural ingredients in their country like avocado, cinnamon, coconut, oregano, and rosemary.  Their products were created to satisfy the diverse needs for textured hair. Their shampoos, rinses, and emergency repair treatments are all formulated without the harsh chemicals that can harm their hair. These products are perfect for curlies and that means we had to share 15 that can do wonders for your curls, coils, and waves.
Shampoos
This cinnamon and rosemary shampoo helps to strengthen your strands while cleanly deeply in your hair, scalp, and pores. It is made with panthenol, vitamins A and B5, natural proteins, cinnamon, and rosemary extract.
Strengthen your hair while you cleanse. This Dominican shampoo is formulated for dry and damaged strands, as it contains keratin to strengthen and ceramides to soften. The silicones help to detangle and the conditioning agents protect and replenish your hair's natural moisture.
Gain capillary growth with the natural plants in this innovative formulated shampoo. 100% active natural extracts that enhances your hair's health, shine, and softness.
Conditioners
If extra shine is your goal, then this concentrated silk protein conditioner is your go to. Gain shine, softness, and revive your over processed, porous, or dry strands. It is an intensive hair treatment that claims to restore split ends.
This leave-in conditioner will strengthen, smooth, and detangle your strands with the remarkable wonders of aloe vera and avocado. It fights frizz and formulated for heat styling.
Made with botanicals that concentrate on repair, this anti-aging conditioner will condition your dry, over-processed and color-treated strands. This conditioner utilizes the power of coconut, rosemary, aloe vera, and jojoba for restoration and preventing premature hair loss.
This conditioner is prepared with natural extracts from fruits, plants, and vegetables so their essential nutrients and vitamins to pummel your hair's dry, damaged, color-treated, and over-processed areas.  This conditioner will revert your limp, dry, or even oily hair back to its natural healthy state.
Hair Treatments
With the gift of snail slime, this intensive hair treatment will strengthen and protect your hair from the harmful UV rays. It will repair and improve the appearance of your hair and it has an intoxicating smell.
Lost your hair's shine? Well, get it back with the power of this deep intensive hair treatment that restores your hair's health that has been robbed by chemical processing like color and straighteners. Formulated with vitamins, minerals, proteins, and oils to assure maximum results.
Straighten your hair the right way. This leave-in conditioner provides full protection so your hair retains its luster and moisture during the heating process and not at the expense of your tresses. Get ultra-smooth and hydrated straight styles with this formula specifically created for ceramic irons.
This product uses the power of the placenta.Sheep placenta actually or more accurately put, purified hormone-free sheep placenta. This is formulated with quaternized panthenol and other highly concentrated nutrients in this formula that will leave your hair completely restored, conditioned, and with exceptional softness and shine.
If you are not afraid of mineral oil then you will love this intensive hair treatment that restores the health of your hair while adding shine and softness. Great for damaged and weak hair and hugely popular in Dominican homes.
Bamboo extract is the powerhouse in this hair treatment that has vitamins A, E, F, and H. Nourish and regenerate your strands with a touch of silicone for smoothness and adding a shiny finish. The bamboo extract will prevent split ends and hair breakage.
This is a treatment for capillary growth with natural plants and an innovative formula that claims 100% natural extracts. Its nutrients bring shine, health, beauty, and flexibility to your hair while encouraging your hair's growth.
A favorite and for good reason, as this extra deep conditioning repairer protects and strengthens the hair strands while preventing hair loss. The natural elements in the formula stimulate hair growth.
Which are your favorites?
This article was originally published in 2015 and has been updated for relevance and clarity.
No comments yet.