Parents already have plenty of responsibilities with their kids so any way they can save time is a win. Having a little hair inspiration can shave down a few minutes of preparation in the morning. Check out these 15 kid friendly hairstyles that will give your little girls variety.
1. Headband Puff
If your young one has hair that is not quite long enough to put into a ponytail, any type of headband will pull the hair back into an adorable puff.
2. Half-Up Half-Down Ponytails
2 / 15
Longer curls can be split into two horizontal sections to create beautiful half-up half down ponytails.
3. Banded Half-Updo
3 / 15
This semi-advanced style requires mini elastics, a sectioning comb and a kid-friendly edge control. After the hair has been washed and stylers applied, make one large part from one ear to the other. Clip the bottom half of the hair out of the way and work on the top half. Determine how many vertical sections are needed and create small ponytails that are pulled vertically into the next. Use edge control to smooth any flyaways.
4. Sleek Baby Fro
4 / 15
Add a sleek touch to your baby's Afro by adding a small side part and smoothing down the hairline horizontally with a brush and baby-safe edge control or gel.
5. Three Strand Braids Protective Style
5 / 15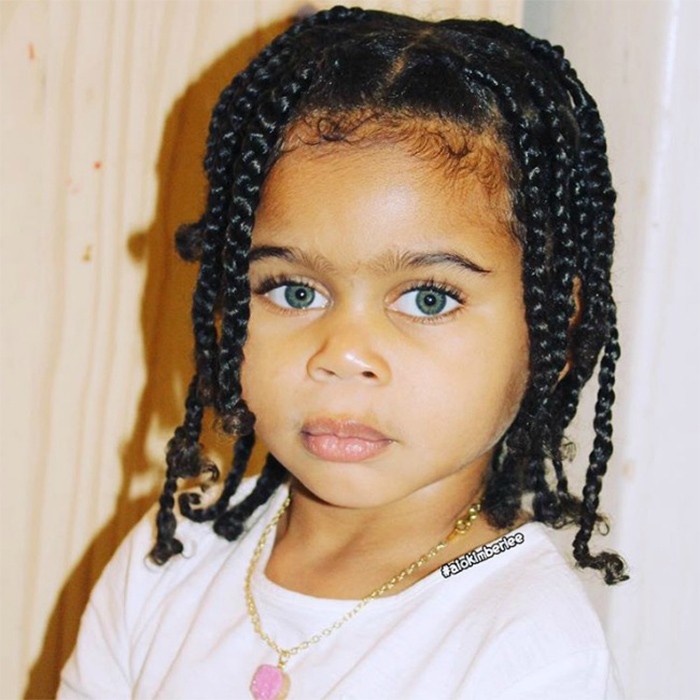 Protective styles are not just for grown ups! After moisturizing the hair with a styler, create several sections on each half of the head and add individual three strand braids. If the ends unravel easy, try mini elastics to hold them in place.
6. Afro Puffs
6 / 15
Sure to be one of the most adorable styles, baby Afro puffs give Minnie Mouse vibes to any child. This can be done on day old hair by parting the hair down the center, then creating to high ponytails on each side. Use a pick to fluff out each ponytail.
7. Rainbow Box Braids
7 / 15
These beautiful rainbow box braids will be the talk of the town at your child's first day of school. Incorporating pink, blue, orange, and green braiding hair into the installation will display a gorgeous color spectrum.
8. Side-Swept Waterfall Cornrows
8 / 15
This professional hair braider created side-swept waterfall cornrows embellished with gold cuffs. This protective style has staying power that will make leaving the house a breeze.
9. Voluminous Afro
9 / 15
Letting the hair flourish in its natural state is a beautiful site. Afro's are versatile and can be styled in a variety of ways. Fluffing out the hair with an Afro pick can add additional volume.
10. Braided Bun
10 / 15
This advanced style incorporates vertical cornrows braided into a ponytail. The braided ponytail is then wrapped into a bun. For a modern twist, a single vertical braid is added above each ear and falls towards the face.
11. Heart Shaped Braided Ponytail
11 / 15
Longer curls can tackle this fancy ponytail that's perfect for weddings and other special events. A classic heart shaped ponytail starts by parting the hair down the middle into two parts. Next, create another part along one side starting at the crown and curving the heart towards the ear. Clip near the ear then begin a dutch braid using the hair from outside the heart part. Braid until you reach the back of the ear then unclip the other section. Continue braiding until you reach the nape of the neck then clip again. Repeat this entire process on the other side up until you reach the nape of the neck. Unclip both sections then combine all the hair together. Split into three pieces and continue with a regular braid. Secure with an elastic to hold the braid in place.
12. Bow-Tie Ponytail
12 / 15
If a bow-tie dresses up a shirt, it can surely do the same for your ponytail. A simplified version of the image shown is to smooth hair into sleek ponytail and secure with an elastic. Next, take two large pieces from the back of the ponytail and wrap them towards the front. Secure the two pieces into another ponytail but before pulling all the way through the elastic, leave it in a tucked position with a longer piece hanging. Next, press the tucked bun towards the base and wrap the longer piece over the middle. Pin well so that it resembles a bow.
13. Fancy Wand Curls
13 / 15
When events come up, using a wand creates polished curls that are perfectly symmetric. For uniformed curls, a clipless curling iron gives the faster results. However, this look is also achievable heatless by using flexi-rods overnight.
14. Simple Half-Up Ponytail
14 / 15
Smoothing a small horseshoe section into a clip or ponytail is a simple way to pull away any longer curls and keep them out of the face.
15. Half-Up Braided Bun with Charmed Braids
15 / 15
This half-updo adds a stylish twist with two cornrows near the ears embellished in gold cuffs and beads. A braided bun wrapped in golden wire sits high atop the head.
What are some of your favorite kid-friendly hairstyles? Share with the Naturally Curly community down below in the comments?
kicking the permalink- KA