The world is opening back up, we're slowly breaking away from our deep-seated quarantine habits, and now is the perfect time to treat yourself and your curls to a salon visit for a new look. Whether you're just looking to shed those accumulating split ends before you make your debut, or you're craving a complete transformation, this summer will be one for the books in terms of styles and cuts. 
One trendy cutting technique that continues to reshape curls and the natural hair movement is the Rëzo cut, the brainchild of stylist and curl expert Nubia Suarez, made with every texture in-mind. Nubia says the star qualities of the Rëzo cut process are that it "...maintains an even length all the way around your head" and "...liberates the curls from the root area so they can move about freely." This makes for an even length to your hair when it's curly and when it's straight. If that sounds good to you, you should know that the cut looks even better--and did we mention it's compatible with all textures?
To make it easier for you to decide on your potential new lewk, we've thought ahead and gathered a round-up of 15 Rëzo cuts to scroll through before you call up your stylist.
1. Large Face-Framing Curls
Master stylist Adri brought vibrancy and incredible shape back into each and every one of these beautiful curls which draws attention to the face while still maintaining a decent amount of length. 
2 / 15
2. Curly 'Fro
Sue's fresh Rëzo cut and blonde Rëzolites by Nubia and Ethan King look effortlessly dreamy on her wash-and-go curls. If you're looking to embrace a little frizz, consider a shape similar to this, we doubt you'll be disappointed.
3 / 15
3. Long Loose Curls
If you're not interested in making any abrupt changes to your hair's shape, the Rëzo cut can still give you the simple curl boost you need without changing anything else, as seen with this cut by Rëzo specialist and educator Sahrita. 
4 / 15
4. Shaggy n' Short
Shaggy hair trends are slowly making their way back into the mainstream of beauty, and we're loving the modern remixes of the retro style. The edgy layers give off a little rock n' roll vibe, yet still uniform. It'll pair perfectly with any outfit choice, casual or formal. Props to curl specialist Gina for this fun cut.
5 / 15
5. Curly Pixie 
Pixie cuts are a beloved style, known for its fresh and youthful look. Of course, the Rëzo pixie is no different--a brilliant choice for a big chop. This one is done by professional stylist Tori.
6 / 15
6. Round Ringlets 
Round curly haircuts are always aesthetically pleasing if you ask us, and this cut was executed flawlessly on Kim by Nubia Suarez, herself.
7 / 15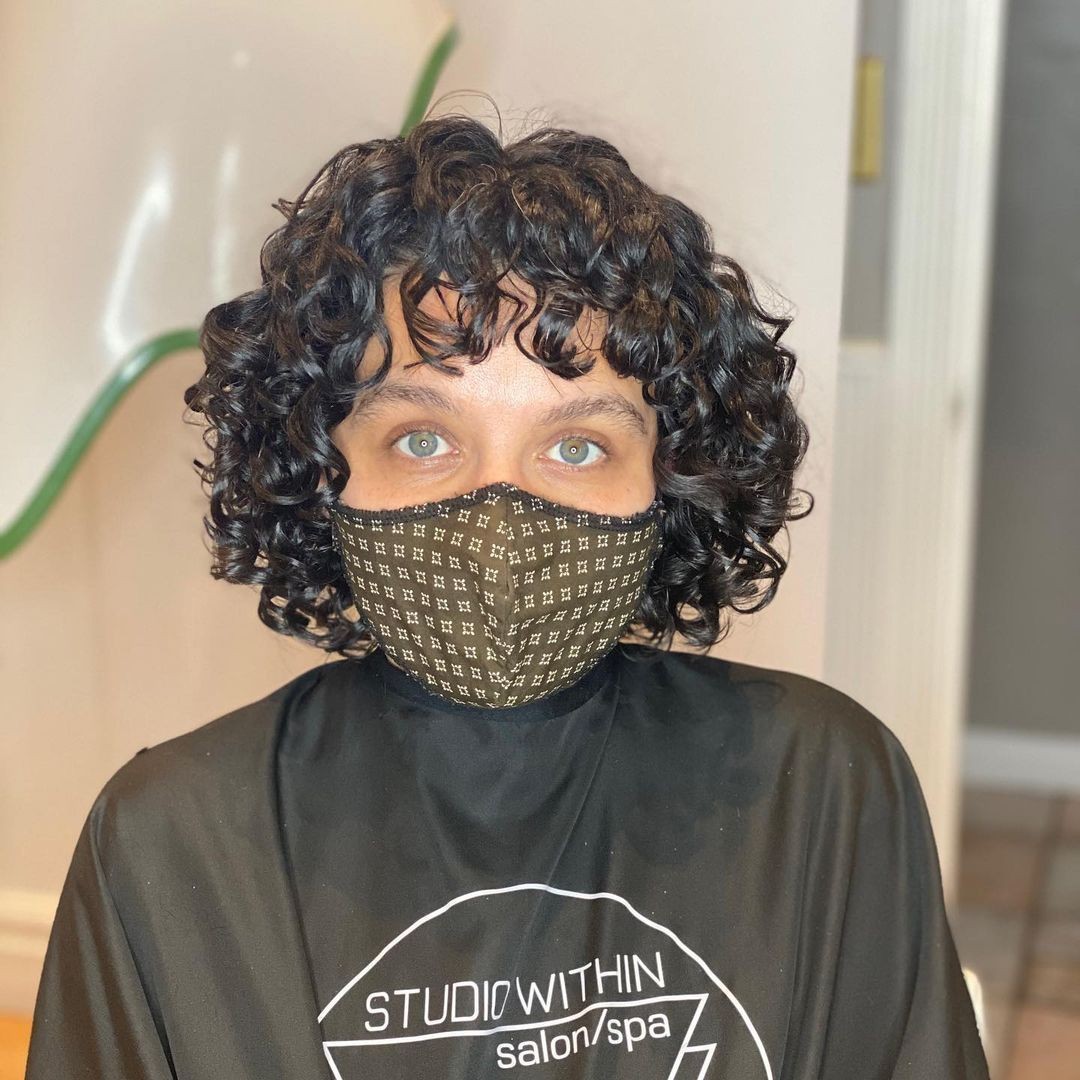 7. Short Bob
For those who enjoy a short-bangs moment, consider contacting Kristy for a short curly bob--it gives off a super chic and artsy impression without the dreaded coconut-head look. 
8 / 15
8. Maximum Volume
To consistently achieve the ultimate volume, Coral suggests keeping your hair healthy and getting it cut into more layers until you get the desired effect. The results are beyond stunning.
9 / 15
9. Heart Shape
This cut is easy to love. Not only does it have an attractive shape, but the color really gives the curls dimension, as well--courtesy of natural hair specialist Alyssa. 
10 / 15
10. Oval Shape
Who says you can't have shape, body, and volume in a short cut? Andrea created this shape specifically for her client, with most of the length falling towards the back. 
11 / 15
11. Angular Cut
Curlies with tighter curl patterns may want to go for a cut that accentuates the shape that their hair gives off naturally--the outcome will more than likely be absolutely gorgeous, just like this style.
12 / 15
12. Deep Side Part
The deep side part in this style by Lacie gives the illusion that it's asymmetrical, although it's actually evenly cut. The versatility of Rëzo cuts just keeps on giving. 
13 / 15
13. Long Tight Curls
Briana got a cut from Nubia that lifted her hair up a bit at the roots, added body, and really defined those lovely curls. 
14 / 15
14. Wispy Curls
Noemi really added movement to these already-pretty curls, and the curls loosened to give off more of a feathered and wispy appearance. The shoulder length is perfect if you want something on the shorter side, but without going all the way.
15 / 15
15. Voluminous Bangs 
Cut and styled by Paola, this cut has incredible lift and volume, especially at the front of the head in the bangs. The amount of length and volume it achieves while still framing the client's face is masterwork. 
Do you plan to revamp your hair as your country emerges from quarantine? Let us know your thoughts in the comments. You should also read some of Nubia's top tips for maintaining healthy curls!