Ever thought about shaving the sides of your hair? As naturals we can sometimes repeat the same styles over and over again to avoid too much manipulation or damage. Experimenting with length, however, is a great way to make a statement and be edgy with your style without damaging your hair!
Not feeling brave enough? Check out some of the styles below that will give you an extra push to go for it!
1. Fade with criss-cross pattern
We love with this low cut with a fade all around the sides and back. The cirss-cross pattern compliments the shape of the hair too, giving it a clean finish! This is definitely a style for those who want something edgy!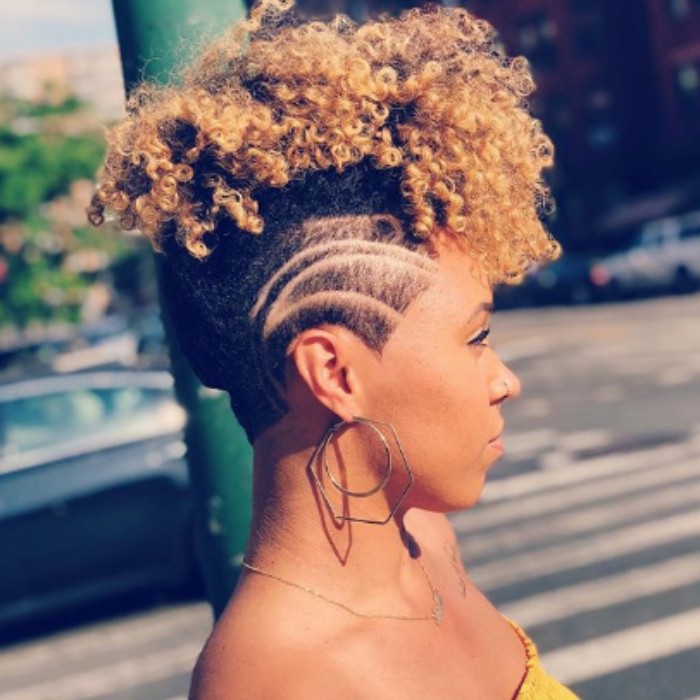 2. Curly mohawk
Want to embrace your curls while having a bit of fun with your shaved sides? This is the style for you! The curls are shaped in a mohawk, meaning you can rock them out with a fringe or even style into a bun. Any way you style your curls on top, you'll still be able to see any cute patterns cut into your sides.
AP Images
3. Bright colors
Kelis is such a trendsetter! If you are a fan of wild colours, you'll want to give this style a try. Kelis has colored all of her hair blue, including the sides. If you want to match this look but fear the damage of dyeing your hair, use the many temporary colour sprays or hair chalks available on the market.
4. Subtle highlights
The most natural looking of the styles! To jazz up your haircut without doing anything too drastic, just add a small pop of color. This is a great way to brighten the look, as the highlights add some fun to your natural hair texture.
5. Pompadour
Pompadours are such a cute natural hair updo perfect for special occasions! This hairstyle paired with shaved sides is a match made in heaven. You can even add in some gold bobby pins or braid rings for decoration.
AP Images
6. Protective styles
Why not jazz up your protective styles by shaving one or both of your sides? This gives you the option to either hide or show off your shaved sides! If you wear your braids, twists, or locs down, you won't see the shaved sides as clearly, making your look way more versatile!
All of the ladies above are killing it with these hairstyles! Rocking shaved sides screams fierce, confident, and beautiful. You can get creative with your look by using colour, patterns, extensions and accessories.
Thinking of getting your sides shaved? Let us know!