It's summertime 2018, and I'm ready to wear super-cute protective styles to keep my platinum blond curls shielded from the heat and humidity. But before I pick up a couple of bags of Kanekalon to finally get those stunning, jumbo Bantu knots I had my eye on all last year, I need to get my hair prepared with a protective-style regimen.
Protective styles are fantastic, and that's why you need a regimen that is simple and focuses on low manipulation and minimum styling. I make sure that my hair is ready for summertime protective styling by using hair milk, conditioner and much more from my Luster's Pink Shea Butter & Coconut Oil collection. You can, too! Keep reading to learn how this regimen helps keep your curls hydrated and how it promotes hair growth.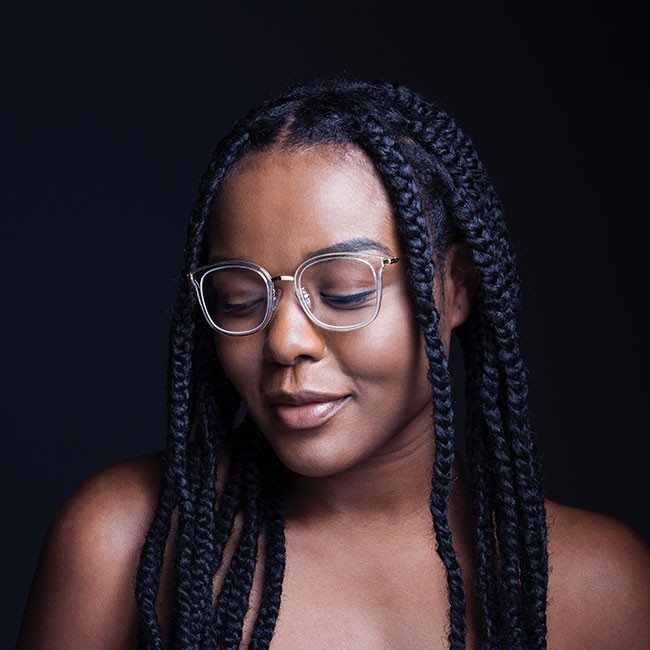 Photo -- Jessica Felicio
Protective Hairstyles for Natural Hair Growth
Box braids and Goddess locs aren't the only protective styles you'll want to rock for growth and length retention. So first, let's learn what protective styles are and why you need them for summer 2018!
According to Curl Centric's Kenneth, "Protective styling is a concept that reduces ongoing manipulation of your hair, encourages growth retention and protects the ends of your hair strands, reducing knots and tangles."
What I love most about Kenneth's definition is that it further encourages those of us who like wearing flat twists, plaits, French braids and Bantu knots to continue doing so — with or without extensions or braiding hair! While this is a great way to protect your hair strands and your ends, you still need to care for your hair and scalp regardless of which style you wear. That's why you need my regimen!
Photo -- Mike Fox
Low-Manipulation Protective Styles Regimen
Now that you've chosen your favorite style for the summer, you'll need to maintain a low-manipulation regimen that helps your hair grow. The key to this regimen is to wash and apply leave-in and then minimize styling. Here are my recommendations:
Before you go to your braider or stylist, you need to do this for your wash day routine at least two days before your appointment: 
Cleanse hair and scalp – Make sure your hair strands are free and clear of product buildup and dirt before going to the salon by using our Luster's Pink Shea Butter & Coconut Oil Sulfate-Free Moisturizing Shampoo. Then follow-up with our Moisturizing & Smoothing Conditioner to deep condition or steam curls. You will notice an instantaneous softness that will ease the detangling process.
To detangle your curls with ease, use our Leave-In Conditioner. For all braided and twisted styles, you'll want to plump your curls with a moisturizer. The Moisturizing Hair Milk is the one you'll want for this step. I recommend steaming your curls after combing the product through, from ends to root. This will help ensure that your hair stays moisturized beneath your protective style.
Once your protective style is in, wait at least two weeks, if not longer, before you start wearing those braided and twisted updos, ponytails, and pulled-back looks. Although these looks are super cute, they can create a ridiculous amount of tension on your hair strands and scalp. This tension can lead to hair loss, traction alopecia, and other issues. That's why you need to make low manipulation a part of your protective style regimen.
Photo -- Giano Currie
How Long To Wait Between Protective Styles
If you want to switch up your look, let's say from Havana Twists to cropped and colored faux locs, you'll want to ensure that you treat your hair gently between styling sessions. The primary tools you will need during your two- to three-week waiting period include the following: 
After taking down your protective style and washing your natural hair, apply Luster's Pink Shea Butter & Coconut Oil Leave-In Conditioner to add all-day moisture to your curls.
To add nourishment back to your hair when locking it into a protective style like flat twists and plaits, apply either the Luster's Pink Shea Butter & Coconut Oil Curl & Twist Pudding or Super Moisturizing Curl Definer for the ultimate hydration experience.
If you're interested in a protective hairstyle that uses a little bit of braided hair, like an extended ponytail or stacked Bantu knots, you need to use an edge-control gel that nourishes and moisturizes as it holds. I recommend our Smooth & Hold Edge Gel.
Photo -- Tammie Allen
By reducing the manipulation of your hair when you wear protective styles, you're letting your hair grow with ease! When you take the style down, you will see longer hair strands and will be able to retain that length over time. That's why I am so thrilled to share this regimen with you! You need to wash your curls, set them with our Shea Butter & Coconut Oil collection, get your hair styled, and go on about your beautiful day!
Excited to try this regimen? Tell me about your #hairgoals here and on my Instagram @resabluster!
Luster Products, Inc. is the sponsor of this post.