An oval face shape is one where the forehead is wider than the chin, and the face length is about one and a half times the width. It's a versatile shape that allows you to wear a variety of styles and cuts that suit your personality, lifestyle and curl pattern. If you have an oval face shape, the top looks for you include the following:
1. Curly layers
This classic cut, custom-tailored to your curl pattern—and with a wispy fringe—is flattering and timeless. Pintura highlights complete the look.
Image by iStock
2. Cropped
Shorter styles like this one look great with an oval face shape. If you want to emphasize your eyes, this is the cut for you.
Image by iStock
3. Short, blunt cut with a few well-placed layers around the face.
Not only do layers add dimension and movement to curly hair, they can also draw attention to various facial features, depending on their length.
Image by iStock
4. Fishtail braid
Textured hair is great at giving braids more volume and we love leaving a couple of tendrils out framing the face. Bonus: braids are an effective way to stretch out the time between wash days. Learn how to do a curly fishtail braid here.
Image by iStock
5. High layers.
This cut is the perfect vehicle to showcase curls and coils. It's a great look when you want to start fresh (e.g., a big chop), or when you want both volume and definition.
Image by iStock
6. Choppy bob
Oval face shapes look great in any type of bob, including this one which will bring out the texture in looser curl patterns. Just make sure the cut is longer than chin-length if you have a pointy chin.
Image by iStock
7. Shag
This cut looks great on every face shape. On oval shapes, use layers to enhance your favorite facial features.
8. Cornrow braids
Timeless, beautiful, and a great way to protect hair from breakage, cornrow braids are always runway-worthy.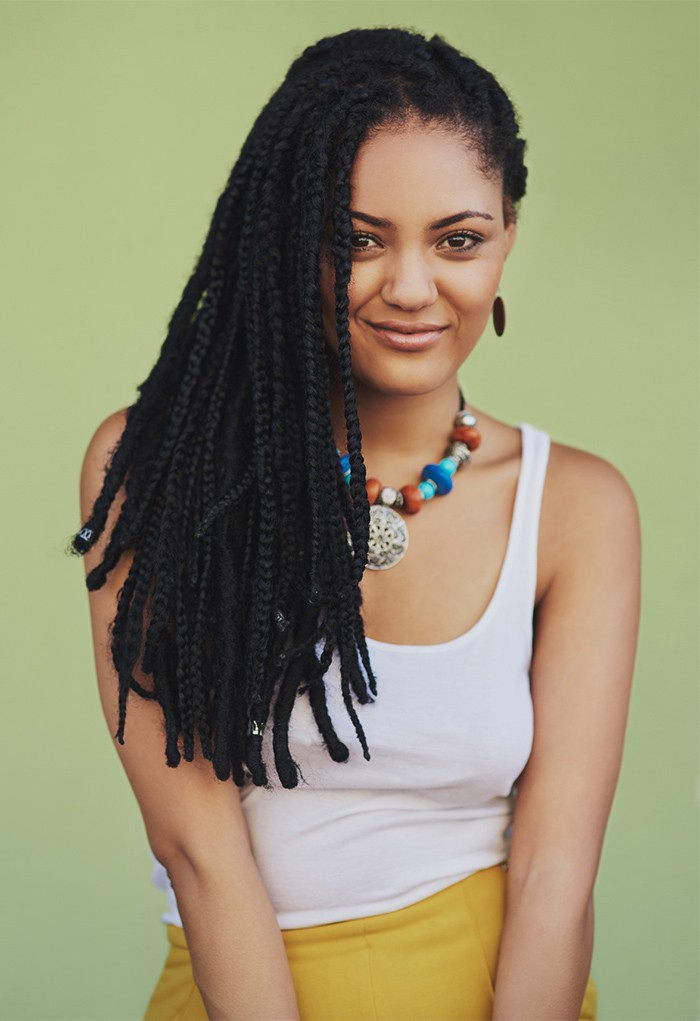 Image by iStock
9. Messy bun
How one look can look effortless and regal at the same time is a mystery. Regardless, coaxing your curls into this pretty style will make your eyes, lips, and cheekbones pop. It's versatile enough to wear during work-hours, or for a night out on the town.
Image by iStock
10. Long, soft layers.
Whether you scrunch your curls or set them, they'll look beautiful in this style. Add a bold lip for drama.
Image by iStock
11. High and medium layers
This look is a perfect in-between cut when you're growing out a pixie. For extra volume, use a pick at your roots.
Image by iStock
12. Voluminous curls
Think uptown-glamour-meets-70s-chic. Here, duckbill clips are used to create lift in the front of the style and at the crown.
Image via iStock
13. The pony.
Trendy yet timeless, the pony looks great on everyone no matter what your style.
Image by iStock
14. Heavy curly fringe
Update your look with banging bangs that will draw attention to your eyes.
Image by iStock
15. Casual, asymmetrical updo
Get this look by pulling your hair up in the back, but leaving out a few curls in the front, on one side of your face only.
Image by iStock
16. Shag with a middle part.
This look allows the hair to frame the face, emphasizing its symmetry.
Image by iStock
What's your favorite look? Let us know in the comments. For real talk on products to use to get that favorite look, see We Tried the Most Popular Curly Hair Products of 2017.