Titi Branch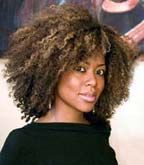 Learn more about and ask questions of Branch and our other columnists.
Learn more about purchasing Miss Jessie's products in CurlMart.
Q: Is it true that if you wear a relaxer for a long time, you can actually change your type of hair or curl pattern? My friend wore a relaxer for five years and cut her hair off two years ago. She says her hair isn't the same, and is not as tight and curly as it used to be. Can relaxers damage your hair that much?
Titi: Relaxers only alter the texture of the hair they are applied to. So if you cut off all your relaxed hair and start off all natural, the previous relaxer should have no effect on your new, natural hair. That's not to say that your natural texture has not changed from what it was a five years ago. But that may not be due to relaxing. We all experience changes with our hair as we age.
Q: What hair options are available to 4B's? I have a friend who wants some suggestions. I told her 2-strand twists, coil outs, and wash 'n go are good options. Anything else?
Titi: The main styling options are 2-strand twists, coilouts, wash 'n go and shingling. However, to add more variety, alter the way you execute each styling method. For a 2-strand twist, changing the size of the twist will give you a dramatically different look. Larger twists result in a fatter curl. Smaller twists result in a tighter curl. Or try a 2-strand twist cornrow and untwist. That will give you a totally different look. For coilouts, try unraveling the coil in more sections to create more volume. This will change the look of a coilout. How you apply product for a wash 'n go changes things too. Applying more product with a more deliberate hand will result in a controlled curl. Raking product through more randomly will create a more whimsical look.
Q:: I want to know how I get my natural hair back? I've been perming my hair every three to four months. When it's wet, my hair will curl up. But how do I keep it? By the way, I have alopecia areata. How do I get my hair healthy and curly?
Titi: In order to go "natural," you have to stop relaxing your hair. As your natural texture grows in, you may have to start cutting off the relaxed portion of your hair if the two textures are dramatically different.
If your relaxed hair curls up, the way to keep it curled is to use a product that captures the curl. Miss Jessie's Curly Pudding or Miss Jessie's Curly Meringue are excellent curly styling creams that capture the texture of the curl when it is wet. As for alopecia areata, my suggestion would be to consult a medical professional. Healthy curly hair is the result of many factors, including heredity, regular haircuts, deep conditioning treatments, minimal chemical processing and just overall caring for your curls. Finding the right curl expert for haircuts and color is key. So is using the right product for your particular type of curl. It's a journey and a process. Thankfully, NaturallyCurly.com is a great resource when you need answers!
:Q I have long, loose medium-fine curls that look great the first day. The second day, I have a lot of bulkiness. What can I do to reduce bulk, and what is a good second-day refresher?
Titi: The initial day of styling is critical. Applying the product to deliberately remove bulk is key. Shingling is a great styling technique for this. By applying product in small, isolated sections and flattening the section, it discourages expansion. If you are going to "shingle" your curls, it is important to sit under a dryer so it completely dries before you touch it. At night, sleeping with a satin bonnet helps to keep the curls in place.
Q: I am so frustrated with my inability to bring out the curl in my hair, elongate my curl, prevent frizz, style my hair and control it. I am so tempted to texturize it with a no-lye texturizer. Should I?
Titi: Realize that if you texturize it, you will have to continue texturizing in order to keep the textures consistent. Make sure you have this process done by a professional. Texturizing is an art. If not done properly, you could end up with a head full of different textures -- more than what you started with.
Q: Although detangling my super-tight 4a/b spirals has gotten much easier, detangling the hair on my crown has not. In fact, it's been quite painful these past few weeks. I'm not sure what to do. I've tried oil rinses, ACV rinses and detangling under running water. Sometimes I just don't feel like bothering at all. But then the hair there gets really tangled and breaks. There's a lot of breakage there, and my crown is significantly shorter than the rest of my hair. What should I do to get rid of this tangling and what should I do about my sore scalp?
Titi: That area in the crown may be tighter than the rest of your hair. The key to detangling is this: You need a rich emollient detangler that makes the hair nice and slippery preventing knots from forming and you need a flat paddle brush with flexible rubber teeth. You will be amazed. Only detangle your hair when it's wet. I recommend a heaping tablespoon of Miss Jessie's Rapid Recovery Treatment. Apply it to the section you are detangling. Use your flat paddle brush, section by section. You should see an immediate improvement.
Q: My little sister has 4b hair, and my mom does not know what to do with it, despite the fact that the 4b hair is from my mom. (That's a whole other story!) My sister is eight and should now be able to do her hair herself. What can she do to help her with it?
Titi: Her 4b hair requires moisture. At age 8, Miss Jessie's Baby Buttercreme is a perfect solution. Apply it to the edges of the hair for a neat frame. Apply it all over to soften and control unruly curls. Twist outs are a great styling option for kids because they are a way you can wear your hair curly and control it too. At night, retwist large sections to keep the hair from tangling. Untwist it in the morning for a controlled, defined curl.