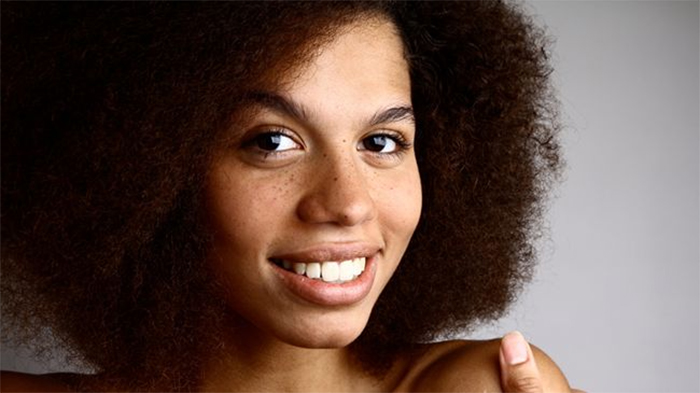 Wanna take your 'fro to new heights? Try a natural hair blow out! Using a blow dryer with a comb attachment will stretch out your coils and show off more of your length. You can rock it as is, or style it for a larger, longer version of your staple styles.
Everyone's technique for blowouts is different — it depends on the how long your hair is, how textured it is, and how much shrinkage you'd be trying to stretch out. My hair shrinks to about one-third of its real length, so my blowout process requires a bit of hard work
I recommended oils that have a very high smoke point, and can withstand high temperatures without frying your hair!
Read more: Why Oil Doesn't Work As a Good Heat Protectant
Essential Blowout Tools
Blow dryer with comb attachment
Butterfly or duck bill clips
Heat protectant
Watch my "creative solutions" for making my blowout work and hear my thoughts on what life as a natural is really like.
Blowout Tips
Before
Ideally, a blowout is done on freshly washed, conditioned, and detangled hair. That will cut down the time needed to comb it dry. The less time exposed to heat, the better, because while this style can be pretty fabulous (you'll definitely get compliments…or at least comments">, heat can really damage fragile hair.
Heat protect
Excessive heat on the hair can (1″> weaken and destroy the hair proteins (2″> change the natural oils in hair that help hold it together (3″> dry up internal moisture of the strand. To prevent heat damage, you'll need a heat protectant. While some products are labeled 'heat protectant,' any product that coats the hair before you apply heat is essentially protecting the strands from damage. You can start by giving your washed and detangled hair a deep conditioning treatment.
Related: Top 10 Products for Your Best Blowout
After that, divide your hair into manageable sections. Personally, I detangle, shampoo, and deep condition my hair in two-strand twists, so my hair is never really loose anyway during the process. I grab a twist to start and clip the rest back.
Undo the twist and run a bit of your heat protectant from root to tip, focusing on the ends, which are the oldest and weakest part of your hair. If using a spray, don't saturate the hair—it'll leave a sticky feeling and will make the hair too wet to blow dry quickly and efficiently. Using medium heat (because using cool would take forever on my length and curl pattern">, run the comb attachment through your hair just like you would a wide-toothed comb — gently and from root to tip, working your way up. Continue with the other twists/sections.
For blowouts, you're looking to stretch the hair, like a huge undefined twist out. Blow it out too much, and it may look more like you've passed a flat iron over it. Many people actually blow out their hair before flat ironing it. So just stop when you've reach your desired fro!
The result should be fluffy, soft, huge hair! Questions? Comments? Talk to me below!
---
This article was originally published in December 2010 and has been updated for grammar and clarity. 
No comments yet.