Jeannine Brown: Hello, my name is Jeannine. I live in Somerset, NJ and I currently work from home in customer service for a health insurance company.
NC: How and when did you start embracing your curls?
JB: I have been embracing my curls on and off throughout my life, but now my curls are here to stay! 
NC: What's your current routine?
JB: My routine changes depending on the season. In the warmer months, I wash my hair twice a week. I shampoo and DC my hair, and then I co-wash the second time in the week. In the colder months, I shampoo and DC. I love to try different products but my staples are the SheaMoisture Raw Shea Butter line—I use the shampoo, the conditioner, and the deep treatment masque. For a leave-in, I either use the Cantu Leave-In or the Alikay Naturals Lemongrass Leave-In. My preferred styler is the SheaMoisture Coconut & Hibiscus Curl Enhancing Smoothie. 
NC: So from start to finish, on a curly day, what's your process?
JB: I do not have a specific day that I wash my hair, but when I do wash it, I shampoo, apply the deep conditioner by sections (four) and when the conditioning is done, I detangle my hair. Sometimes I sit under a hooded dryer or under a conditioning cap for 15-25 minutes. As I rinse my hair, I finger detangle, apply leave-in by sections, detangle again and then either put in 4-6 braids or twists in each section.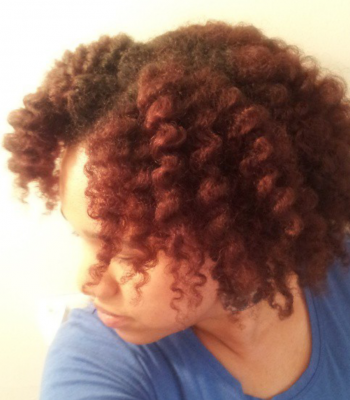 NC: What are your favorite hairstyles to wear with your curls?
JB: My favorite style is a braid-out, but I also like twist-outs.
NC: What are your must-have products and tools?
JB: I must have my detangling comb, a Denman brush, and my fingers!
NC: What about your hair stylist?
JB: I do not go to the stylist often, but I recently went in for a trim. I wanted a professional to trim my hair so it would be nice and layered throughout.
NC: What do you do at nighttime for your hair?
JB: I put my hair in chunky twists or braids and cover it with a satin scarf or bonnet.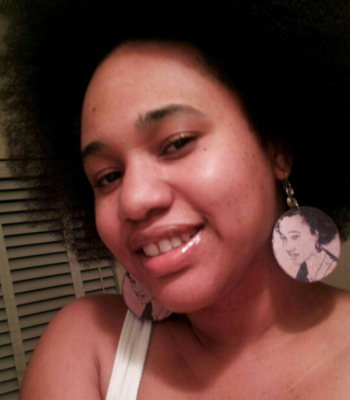 NC: What reaction did you get when you first decided to go natural? 
JB: It was not too surprising…the majority of women in my family are natural. There were a handful that did not seem too happy about my decision, but I was expecting that. 
NC: Did you big chop or transition? 
JB: I transitioned for about eight months before I big chopped. I wanted to transition for a year, but I had a bad salon experience and that made me big chop much sooner.
NC: What is the best thing about being curly?
JB: There is a lot of versatility. I can wear my hair straight, wash it and voila! My curls are back! 
NC: What would you tell others to encourage them to embrace their curls?
JB: Make the decision to embrace your natural hair! You can experiment with so many different styles. And don't get discouraged if your curls aren't the same as your "natural hair inspiration." Learn to love your texture! 
Want to learn more? You can find Jeannine on Instagram.