My-Cherie
My-Cherie in Dizzy Gillespie Park
This summer, I had the opportunity to take an amazing road trip back to my hometown, Cheraw, S.C. I also exercised my naturally curly ambassador skills.
This was a special trip for me because my little brother was graduating from high school. I hadn't been home in three years
Most people know nothing about Cheraw, so I always make it a point to give a little history lesson.. Cheraw is the prettiest town in Dixie. Cheraw is hometown of legendary trumpeter Dizzy Gillespie. Our state bird is the Carolina Wren and our flag is the sweetest of all — a Palmetto tree with a crescent moon.
My trip back to South Carolina was remarkable. You really don't get to appreciate a place until you leave and come back. From the moment I arrived in Cheraw I felt like I was in a time warp. Everything and everyone was the same, down to the magnets on my parent's refrigerator. The people all looked the same besides some gray hair and few extra pounds. You know people in the South can cook, so the food festivities were my favorite. Everyone kept looking at me saying, " You need to eat. You're looking so skinny." I gently replied, "No, I eat healthy now. What you are witnessing is what a healthy body should look like."
The good thing about it was that I truly felt like I was at home. The pine trees were green and the smell was crisp. The humidity was at an all time sticky high. The Wal-Mart and Micky Dee's were still major landmarks. My best friend in grade school's parents still lived in the pretty blue house on Campbell road. Not much had changed!
After my brother's graduation, my parents had a pool party at their house. There were lots of folks there from the where church I grew up. I got a lot of funny stares because of my wild hair. I was surrounded by quite a conservative group of people. I arrived with my hair naturally free so that everyone could see how comfortable I am with my life right now.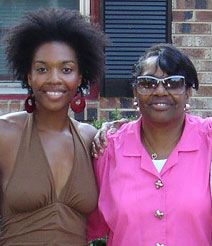 My-Cherie and her aunt.
One of my favorite Aunties, Yvonne, was quite intrigued by my hair style. She sat beside me on the couch and said: "I want to talk to you about your hair. How did you get it like that? Did you use some sort of machine? I love it so much." I began to laugh and I said: "Thank you and no this was not done by a machine. I twist my hair myself. It takes about three hours, but it is so worth it." She said: "My hair could never look like that, plus I'm scared to wear it like that. What will the other sisters at church say? I always wear a hat when I don't have time to straighten it." I replied, "First of all, why are you worrying about what other people say about your hair? Do what makes you feel good. In fact, you have an amazing grade of hair. Why the heck are you straightening it?"
After talking for two hours with my Aunt Yvonne, I realized that because naturally curly hair is not considered mainstream, she had lost the confidence to just go for it! She expressed that she always wanted to wear her hair naturally curly and envied the women on TV and in the magazines who wore their hair this way. Since my Auntie was so curious, I encouraged her to use the Jane Carter products she already had in her house. She was very fond of The Jane Carter Solution Nourish & Shine because it helped with her heat-damaged hair. She said, "I love that it makes my hair so soft." I talked her through the process of twisting her hair with a little help from Jane Carter Solution Natural Hold Spray Gel. I even wrote down all the details, step by step, on a sheet of paper. I also expressed to her the value of NaturallyCurly.com as a one-stop-shop to naturally curly hair. She couldn't wait to go back to North Carolina and try it out. She was happy.
At the end of our conversation, I told her: "Be brave. The next time I see you I want to see you naturally curly and free."
I felt all grown up giving advice to someone who always gave me advice. I'm delighted to be a naturally curly Ambassador. I feel like I am changing lives, one curl and kink at a time. Dizzy Gillespie would be proud of me for being a naturally curly activist in our little Dixie town.