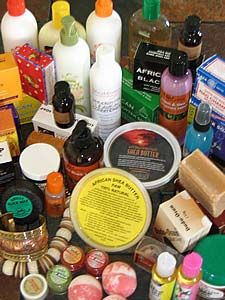 When Mark and Kim Kelly launched Afrikan Republic three years ago, they wanted a business they could run out of their home. They thought it might be good to sell African art over the Internet.
But things didn't go exactly as planned.
"We didn't sell a lot of art," concedes Mark Kelly.
But what the Kellys did discover was that there was a huge market for body products — especially for products with ingredients like shea butter and oils. So Afrikan Republic changed course, and the Kellys haven't looked back.
Citrus safari bath bombs
A selection from Afrikan Republic's jewelry offerings
Alaffia Neem & Shea Butter Soap
"We figured we'd sell what people were really looking for," Kelly says.
The company now sells 250 products. They include soaps, lotions and oils from the company's own private-label line as well as products from companies such as Alaffia, Nubian Heritage and Madina. One of their most popular products is their Afrikan Republic Bath Bombs, which are loaded with shea, coconut and palm oils. They come in flavors such as cherry, citrus safari and congo.
The company also sells exotic jewelry from Africa.
"We try to be an aggregator of great products," Kelly says.
Kelly says their interest in African products stem from their multicultural family, as well as from a family friend who traveled to Africa. Afrikan Republic's products, however, aren't limited to products from Africa, Kelly stresses.
"It's not all from Africa, but it all has ingredients like shea butter or coconut oil in it," he says. "We step out of the boundaries sometimes if we feel it will appeal to our customers."
Kelly says they plan to broaden the base of products they offer. But they want to maintain their high standards.
"We're always searching for new products to sell," Kelly says. "But if my wife says we can't sell a product, we don't sell it. She's very picky."
---