When she went natural a decade ago, the response from her Southern grandmother was less than positive.
Thompson did do something, but not to her hair. Five years ago, she launched ButtaFly Unlimited, a line of inspiring t-shirts, hats and more. One of the company's most popular shirts boasts 'I Love My Hair.' Other hot sellers are emblazoned with the words 'Free Your Soul,' 'Be a Leader' and Be Unlimited.'
In a world where clothes scream out company logos, Thompson believes that 'if you're going to wear something, it should mean something.' The company's entire philosophy is about loving who you are.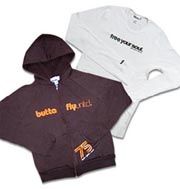 The 30-year-old Brooklyn entrepreneur hasn't always felt comfortable with her own look. Her mother didn't know how to work with her hair and she did a lot of experimenting. She began seeing people with natural hair and began cutting her relaxed hair shorter and shorter. She says she loves her natural hair now.
Her t-shirts aren't trendy, and have a simple, old-fashioned feel to them. She believes they are the type of t-shirts you can wear forever. She regularly changes the colors and designs.
The response to the t-shirts has been overwhelmingly positive, says Thompson, who also designs jewelry. She has gotten orders from around the world.
When she wears her shirts, 'People will say 'I love your hair too,'' she says. Thompson plans to expand into films, a newsletter and children's books.