During the early days of NaturallyCurly, I remember hearing from a family friend about a product I had to get my hands on – a miracle product for curly girls. She sent me a bottle of Mixed Chicks Leave-in Conditioner. I loved everything about the product; it gave my 3b curls moisture and definition.
I also loved the messaging on the bottle: "Whether you're black, white, Asian, Latin, Mediterranean or any glorious combination of the above, you'll love the way this paraben-free, non-sticky, lightweight product leaves your hair inviting to touch as it defines and locks moisture into every curl."
Inclusivity is very much at the core of NaturallyCurly's philosophy and has been the philosophy of Mixed Chicks since inception – a focus on what we share rather than what separates us.
Kim Etheredge, who grew up in Los Angeles, and Wendi Levy, a New Jersey native, grew up searching for products that met their curls' unique needs. Growing up biracial — Etheredge's mother is Irish, and her father is black; Levy's mother is black, and her father is white – it was difficult to navigate the right hair care aisles. So the two self-proclaimed "mixed chicks" created a product for themselves and their friends, and in the process created a Holy Grail product for curlies around the world.
Fourteen years after they launched, the textured-hair world is dramatically different, with numerous new brands launching every year and entire sections of stores dedicated to curls and coils. This new state of being means it's even more important to celebrate pioneers like Mixed Chicks and the role the founders played in changing the hair care landscape for the curly girls – and guys – of the world.
NaturallyCurly had the opportunity to interview Kim and Wendi as they prepare for a major launch this fall: The very first Mixed Chicks' collection that will "make life easier" for curlies.
NC: Remind us of the story behind Mixed Chicks.
Kim: Wendi and my sister worked together. Wendi was from the East Coast, and my sister and I grew up on the West Coast. We became her West Coast sisters. At a family BBQ at my home, I questioned her about her curls that were in place more than mine. I asked her to tell me what she used to make her curls look so good. She said. "Do you have a pen and piece of a paper?" We laughed and talked about our hair hurdles and all the concoctions we used and how what worked yesterday didn't always work today. It was something we both had dealt with our whole lives. We should have bought stock in beauty-supply stores.
We both had combination-textured hair, and we had to purchase products from all over the store. Our main issue was that they looked at the color of our skin rather than the texture of our hair. We knew better. We shopped along the aisles. We both thought it was crazy that there weren't products that embrace combination-textured hair.
Out of that conversation, we said, "We should make a hair product," never thinking on a larger scale. We wanted to create something to serve our personal needs. We didn't realize we had a lot of friends who were all going through the same thing. We all were experiencing the same issues. We decided to do something about it for our friends, for our family, for ourselves.
Wendi: In 2003, Kim had a friend that was working temporarily at a cosmetics lab. She suggested we come in for a visit to sit down with a chemist along with products and ingredients we liked and create a product. We could test how well they would work with textured hair. We developed our staple product, the Leave-in Conditioner. We would give it to our friends, and they wouldn't give our samples back. We knew we were on to something.
We launched Mixedchicks.net in April 2004. Our vision was authentic. Our audience was wholly neglected, so our message was refreshing, and it helped fuel the multicultural movement in the hair industry.
We really are our brand. We are mixed chicks. That's our DNA, our cultural experience, our understanding of hair. -Wendi Levy, Mixed Chicks
NC: I've heard people refer to specific hair types, such as 3c hair, as "mixed race hair" or "biracial hair," but we have so many people who work at NaturallyCurly and in our community who are mixed, and they all have different hair types. Do you find that people get caught up in this idea that "mixed" hair is a particular hair type?
Kim: I have never really defined my texture as a particular hair type because it's my texture; it's blended. Some days this section might be looser, and some days it might be tighter than this side. If I get some new hair color, then my hair's a little looser. So trying to name, or categorize, my curls has never worked for me.
We at Mixed Chicks have never defined ourselves or products according to the curl pattern scale. We've always claimed that our products define YOUR curl pattern, and that pattern depends on your texture, the way it curls, waves, or the techniques you use to create that pattern. Our products work to enhance what God's already given you. Mixed Chicks is not just for one hair type or ethnicity, that's why the messaging on our packaging has been clear from the very beginning. We celebrate diversity and versatility and embrace all.
NC: Your brand was built around inclusivity. Where do you think the industry is now concerning the inclusion all hair types?
Kim: When we began, we had the general market aisle and the ethnic aisle. We still do. The title for ethnic hair has changed over the years from ethnic hair to "specialty hair," "relaxers and texturizers," "naturals," and more recently "multicultural hair." It keeps changing, but the business model has not.
With all of the new brands that have come into the market as well as existing and legacy brands providing women, men and children with choices for haircare, we are still limited when it comes to shelf and aisle space. I would love to see the aisle expand so that brands can add more of their items to the display. That helps consumers not feel left out when looking for what else their favorite or new brand has to offer.
Instead, brands are competing with each other, or themselves, to stay alive. It would just be nice to see that aisle spread. I think data will show we are the leading spenders and that African American haircare sales in mass retail chains are thriving. Growth is driven by products specially formulated to address texture management.
NC: How do you feel about all the brands that have come on the scene recently?
Wendi: We feel old when we hear a new brand repeat our story as their own. It's like a brand new story to some! However, we're so happy the door has opened for people to have choices. If we didn't have the Lusters or the McBrides (Design Essentials"> or Shea Moistures, this platform wouldn't even exist.
Mixed Chicks is not just for one hair type or ethnicity, that's why the messaging on our packaging has been clear from the very beginning. -Kim Etheredge, Mixed Chicks
NC: What makes Mixed Chicks different?
Wendi: We really are our brand. We are mixed chicks. That's our DNA, our cultural experience, our understanding of hair. We genuinely service an array of textures not specific to race. Mixed Chicks serves the blended world that Kim and I truly represent.
Kim: We grew up with the (general market aisle"> and the ethnic aisle. We wanted Mixed Chicks to represent the middle where everything comes together. We represent everyone because we come in all colors, shapes, sizes, and textures. We've included everyone since Day 1. That's how we started — to encourage the world to come together.
Our tagline has been that Mixed Chicks is a "multicultural revolution" since the beginning. Stores are now labeling their categories as multicultural, and it makes us feel good that they see "we" are diverse in every shape of the word. We are now supplying more products than ever before as a category and providing choices for the consumer. Our Shea Moistures, Luster's and Design Essentials opened the door for us to make something different than what was available. We hope that we push new brands to do the same.
Again if we are afforded more shelf space, we can offer more products in our line to showcase the difference in our brand. Consumers who may feel left out because they cannot find that particular Mixed Chicks product on the shelf, or may not even know we have what they are looking for, would be able to see the depth in our product range. Thankfully we have an online shop at Mixedchicks.net where they can find all of our hair products as well as accessories, t-shirts, dolls, and cosmetics.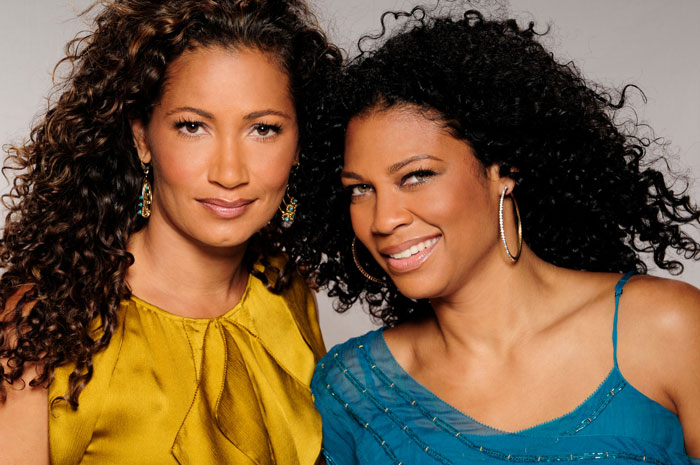 NC: Where does the brand look for innovation?
Kim: The hardest part is staying innovative. That's the one thing that we built ourselves on. When you run a business, there are so many different avenues to manage, so you start to go into survival mode. That's no fun, but you have to. So Wendi and I work to get to that place where we can become creative again. Fortunately for us over the last year, we were able to get to that place where we could be innovative and creative.
We've created a new line that will be out in the fall. We hope that everyone will love it because it's not what you see packaged every day, but it's necessary.
Wendi: The idea for our new collection came from an epiphany. We saw a problem and realized there weren't products to solve it. The inclusion of one main ingredient came while I was on a field trip with my daughter. We were learning about what ingredients Native Californians used and other key ingredients that originated here in Southern California. Since we are a Southern Californian company and the raw material is grown locally it seemed "heaven sent."
Our new collection launching in the fall has six products that will help push wash day further away.
NC: How many products does Mixed Chicks have?
Wendi: When we began, it wasn't about putting out a bunch of products. It was about simplifying things. When we've added a new product, it has to be good, and it has to meet a specific need. We now have 22 SKUs, including kids' and men's products.
In early 2017, we introduced six products: Conditioning Cleansing Co-Wash, Curl Sculptor, Styling Gel, Slick Styling Tamer Edge Tamer, Daily Hair Dress and Styling Cream.
Our latest collection has five products that will help prolong day. -Mixed Chicks
The Leave-in Conditioner is still the top-selling product. It's liquid gold in the bottle! When we created ours, leave-in conditioners on the market were for pre-styling. We decided to make our leave-in a styler. It can be used to define and moisturize curls, and natural styles as well add texture and calm frizzies to limp and fine hair. You can put it in a spray bottle with water and use it as a refresher.
I know it sounds cliché, at the end of the day, everything isn't for everyone so with Mixed Chicks, we like to provide options. We've learned that you cannot please everyone, but if you help or satisfy one person, then you did a good job.
This article was originally posted in 2018 and has been updated.