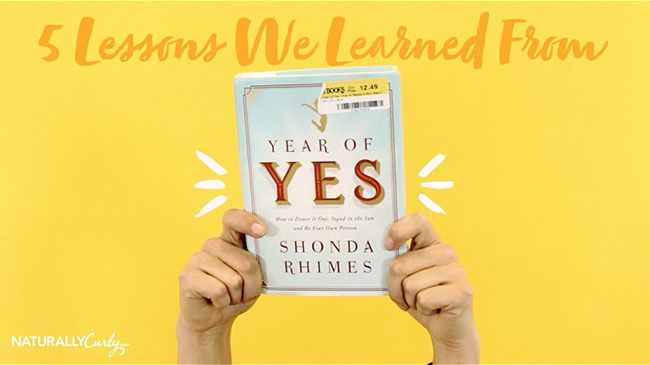 Are you a part of the NaturallyCurly Book Club yet? If you're not, I encourage you to sign up and start reading with us! Our January book of the month: Year of Yes: How to Dance It Out, Stand in the Sun and Be Your Own Person by Shonda Rhimes, and we're going to be hosting a virtual book club meeting on Facebook Live to talk about what we learned!
The Facebook Live event will be:
January 25 at 2:30pm CST, on our Facebook page
If you're worried that this book is going to tell you that you need to start saying yes to everything that everyone asks you to do, it's not. I don't recommend that you do that, and neither does Shonda. Shonda chose to say yes to the things she had been saying no to out of fear. I'm sure we all have those poking around in our brains. When you choose to say yes to the things that make you uncomfortable, it may be scary the first time but by the second, third and fourth Shonda found that the anxiety melts away and they're no longer scary or difficult. In my personal experiment I've found that not only do those things no longer scare me, I get a confidence boost from having faced that fear that gives me momentum to tackle the next scary thing on my to do list. You can watch me talk this and 4 more lessons I learned while reading this book.
If you didn't read the book
That's ok! You can still tune in and chat with us about what you're saying yes to this year. You can also quickly watch Shonda's TED Talk about her Year of Yes experiment, which is basically the Cliffs Notes version.
Sign up to join the book club!