When combined with nourishing Sea Kelp and hydrating Argan oil, Raw Shea Butter is a force for tight coils and curls to reckon with!
The Raw Shea Butter Heatless Curl Stretch Gel and the Extra-Moisture Detangler from SheaMoisture give tight coils and curls room to unravel themselves from the grips of dryness, freeing them up for incredible styles such as:
Banding

Twist-Outs

Braid-Outs

And even Heatless Blowouts!
Curls that feel dry to the touch, need fortifying, and/or are transitioning will greatly benefit from the moisturizing properties of Raw Shea Butter. According to natural hair news sources Black Girl With Long Hair, there are several reasons why you will want Raw Shea Butter in your hair care and styling routine:
"[Raw shea butter] is primarily made up of fatty acids including palmitic, stearic, oleic, linoleic and arachidic. The stearic and oleic acids make up about 85–90% of the total fatty acids and their relative proportion controls the butter's consistency. Higher stearic acid means it will be more solid than liquid and the higher the oleic acid, the harder that solid is. Both of these vary depending on the growing season and location." -BGWLH via The Beauty Brains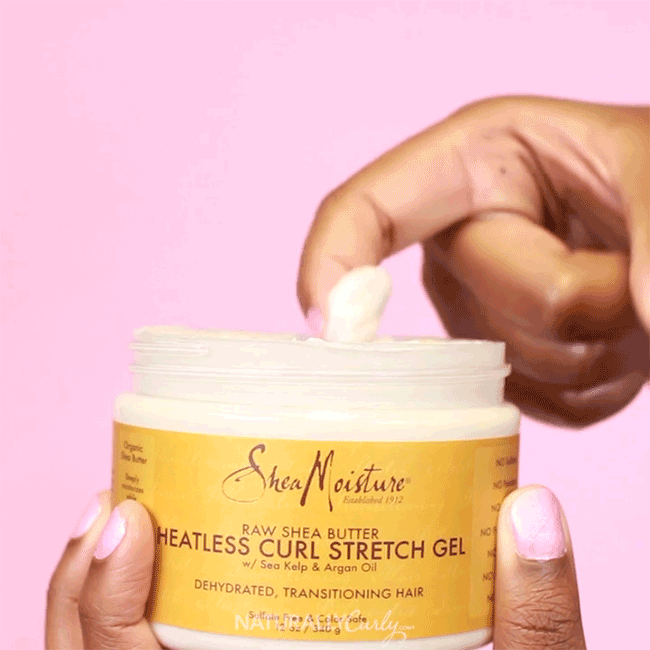 Since you do not want to apply chunks of Raw Shea Butter to your hair, you will benefit from a formulation that combines it with nourishing emollients and moisturizers such as:
Sea kelp - Featured in both the Heatless Curl Stretch Gel and Extra-Moisture Detangler, iodine-rich Sea Kelp will give your tight curls and coils a boost of strength, keep your scalp healthy and free of dandruff. It is an incredible hydrating substance that will give your hair the softness and moisture it needs.

Argan oil - Even if your curls are the healthiest on the block, they will still benefit from Argan oil. Why? It is because this oil is rife with Omegas 3 and 9, the fatty acids determined to keep your hair follicles healthy (because healthy hair follicles means minimal hair loss).
These powerful ingredients are in the Raw Shea Butter Heatless Curl Stretch Gel, which will give you lovely stretched, heatless styles.
Eager to get your hands on this remarkable gel and detangler? Great! Take a look at how to use them both for the longest, fluffiest braid out of the season:
Eliminate shrinkage now!
Don't wait any longer - Get your Raw Shea Butter Heatless Curl Stretch Gel and the Extra-Moisture Detangler from SheaMoisture at Sally Beauty stores and SallyBeauty.com now!
This post and video are both sponsored by SheaMoisture.
As ever, stay curly!