The festive holiday season is here with us, and the weather is cooling down. It's the perfect time to whip out your blow dryer and curling iron to try out all those amazing styles you've been avoiding because of the summer's humidity-induced frizz that just wouldn't let your styles thrive.
But we all know that to achieve some of these styles, we have to expose our hair to high levels of heat, which could potentially lead to heat damage.
Here are five must-do's before you use heat on your hair this festive season: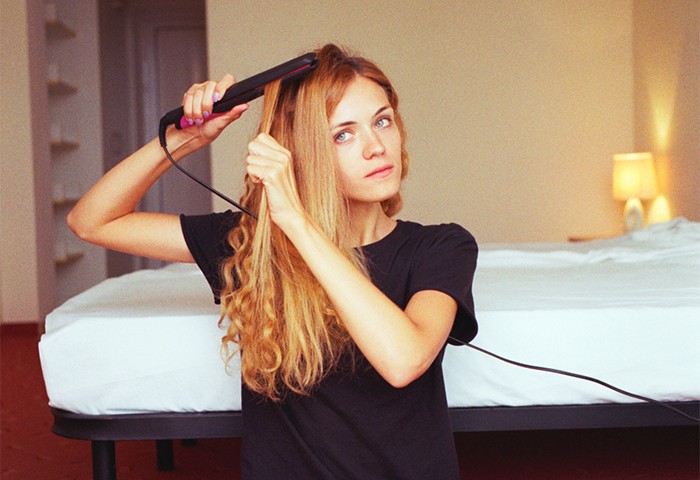 1. Section it up
Always work with your hair in sections through the entire heat-styling process! Trust me, it is always easier, and will give you the best results. Not only will you be able to reach the roots better, but it ensures every inch of your hair is thoroughly detangled, moisturized, and of course, styled, remaining frizz-free for longer.
2 Always start on clean hair
You need to make sure that your hair is free from any product or buildup prior to applying heat to it. If your hair has products on it such as oils, these can fry up from the heat and cause damage to your hair strands.
Now, in fall, because of the harsh weather, use a much gentler clarifying shampoo to wash off any products that may be coating your strands. Los Angeles-based hairstylist Marcia Hamilton swears by the Crème of Nature Argan Oil Apple Cider Clarifying Rinse. She says, "Apple cider vinegar is one of the best treatments to remedy buildup caused by products in your hair." And we couldn't agree more. After clarifying or deep cleansing your hair, use a rinse-out conditioner to re-moisturize your hair. Conditioners also provide a barrier between direct heat and your hair, so that's a plus.
3. Protein treatment
Have your hair in the best condition to withstand the effects of the heat by treating it to a good protein deep-treatment mask prior to straightening. Protein treatments work to seal in any gaps on your hair strands, making your hair stronger and less susceptible to heat damage. Look out for thicker, richer protein treatments this fall season. You may follow up your protein treatments with a moisturizing deep conditioner to smooth out and add moisture to your hair before heat styling.
4. Protect from the heat
So many of us are guilty of not using a heat protectant when straightening our hair. Believe me, I am too! But according to celebrity hairstylist Matthew Collins of Brennen Demelo Studio, "Heat protectants are one of the most important products to have in your styling kit. If you're going to blow dry or use any hot tool, I always urge my clients to use a heat protectant."
Heat protectants help provide a shield between the heat and your hair strands. They seal your hair cuticles to help reduce moisture loss during heat straightening. What's interesting, though, is that the main ingredient in some of the best heat protectants is silicone. You may have come to know that silicones can insulate your hair strands and lock out moisture, but not to worry, SheaMoisture Jamaican Black Castor Oil Strengthen and Grow Thermal Protectant Spritz is Curly Girl Method friendly. It will help keep your hair stretched and ready to withstand humidity, letting your styles last for much longer.
5. Manage the heat
After you've done all these steps, your hair is now ready for the heat, but not so fast. Be sure to ensure that the temperature on your appliance is always on a low setting, and don't allow more than two passes of the flat or curling iron on one section.
After all is said and done, even with the best care, frequent use of heat will likely cause some damage to your curls. So be sure to give your hair a break from the heat every now and then. You can opt for heatless hair stretching methods, like African threading, bantu knots, or banding.
How do you prepare your hair for heat styling? Let us know in the comments section!