As we're seeing the natural hair care aisle flooded with more products ranging from sulfate-free to eco-friendly, we continue to be on the pursuit of pristine curls. Leave-in conditioner is the mainstay of most naturalistas' hair routine because they help to detangle, add moisture and shine to our curls. In our recent "Best of the Best" awards we scoured the aisles for the best leave-in conditioners to bring a little extra ooomf to our curls and our winners came out victorious. Tracee Ellis Ross's Pattern Beauty leave-in conditioner has quickly become a fan favorite for its light-weight feel and clean scent. I put it to the test in my review below.
Problem: Needing Hydration in My Hair
As a Type 3 naturalista with colored curls, to say that my hair is thirsty for moisture and hydration is an understatement. I have blended type three hair so it's thick, naturally voluminous, dry, and my textures are all different. In addition to that, I have been dying my hair bright blonde for the past few years so I need a leave-in to help provide moisture and definition to my curls. Using a leave-in conditioner is a quintessential part of my haircare routine, but finding the right leave-in can be a truly trying ordeal. I particularly don't care for a thick leave-in conditioner that is extremely fragrant. The less fragrant, the better for me because I have allergies so I'm sensitive to smell.
Pattern first caught my eye when it debuted a few years ago for it's eye-catching designs, hallmark branding, and of course the founder, Tracee Ellis Ross. What I loved about this from the beginning was that she offered travel/trial and full size options so I could try it without committing to a full-sized product.
This leave-in is designed for all textures, patterns, and hair types with the bonus of helping restore hair. It's formulated with natural oils and honey to provide moisture and a soft curl pattern definition and can be used for preparation before creating a protective style or a wash & go. The scent notes are supposed to include rose, patchouli, and neroli as Tracee wanted a clean and not an "overpowering" scent. I bought the 3 fl. oz and the shampoo in order to get the full "Pattern" effect for my wash day.
2 / 6
I started my wash day with the Pattern Beauty shampoo which was very creamy and had a good lather. The coconut oil, honey, and aloe vera leaf juice gave it a warm and rich scent that wasn't too overpowering and massed well into my curls. 
3 / 6
This is probably one of the few times I was very impressed with my hair directly after shampooing. Normally I can't wait to immediately start putting in my leave-in conditioner but I was really happy that my hair was already starting to look defined and moisturized once I dried it. The scent was lingering and my curls weren't feeling dry, stringy, or straw-like which can sometimes happen with certain shampoos because of my color.
4 / 6
The consistency was a good balance between creamy, thick, and a good slip. I could immediately see the water and aloe vera which let me know it was going to moisturize my hair. It has a very light scent and wasn't sticky or oil.
5 / 6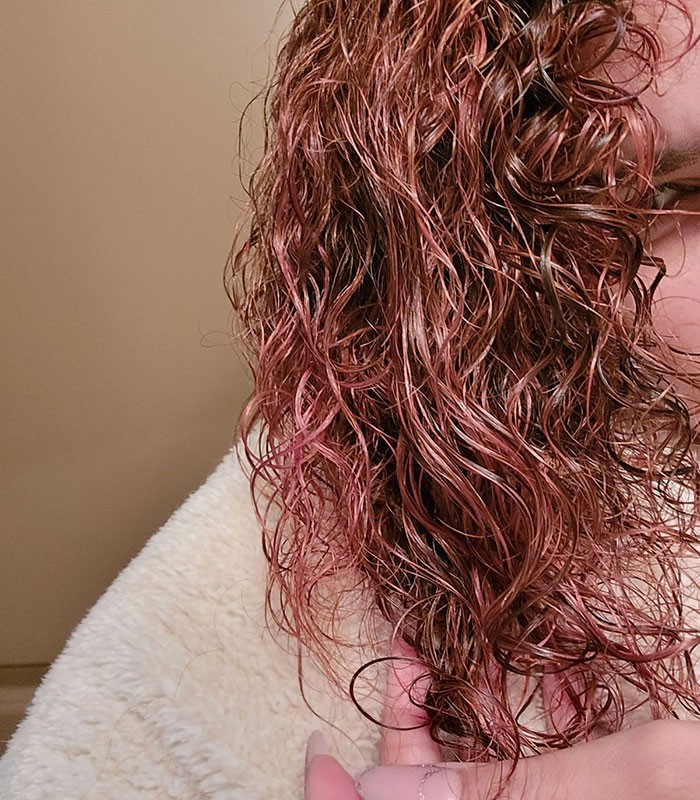 These are my curls as I began applying the leave-in conditioner and they immediately started looking defined, shiny, and hydrated. I didn't have to continuously apply the product and was able to detangle and comb it through my hair without any problems. I focused on the dry parts of my hair and sectioned it so I could reach those alternate textures closer to my scalp.
6 / 6
The final results were great! My hair was extremely soft but frizz-free, defined, and you could see the texture of my curls. I normally do the LCO method so I eventually applied other products to complete my wash day, but if this was the only product I could apply then I'm happy with the results.
This is a great leave-in conditioner that I would invest in for long term use with a bigger size. It was lightly scented, easy to apply, and left my curls with soft and defined hair that would make it easy to style or leave as is.