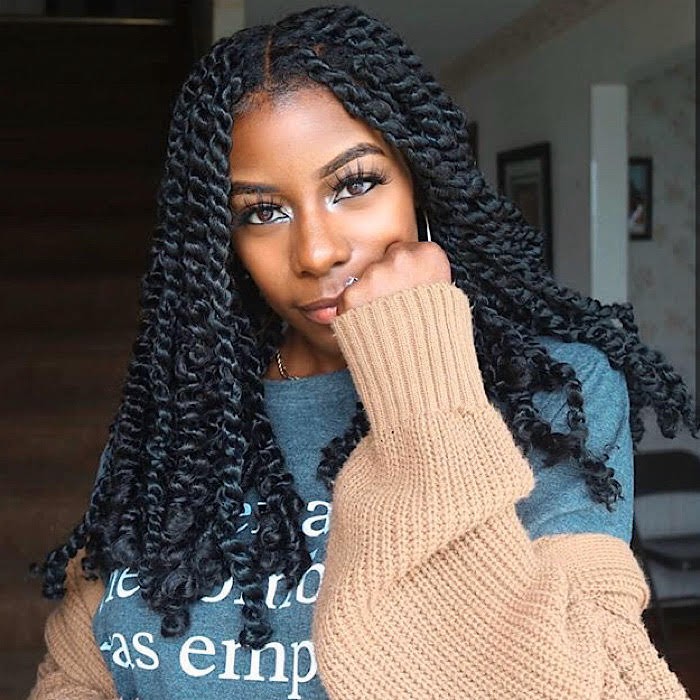 We all know that healthy natural hair requires a healthy hair regimen when your hair is out - but just because you put your hair in a protective style doesn't mean you can forgo your entire hair care routine. This 'set it and forget it' ideology that your hair doesn't require much of a commitment in a protective style is a false one. Don't skip these important steps to care for your hair and scalp while wearing braids and twists. 
1. Scalp care starts before installation
The first step to caring for your scalp actually happens before you get your protective style installed. Tracy Brown is a certified trichologist and hair expert who co-founded Tru Balance Hair Care as a healthy scalp concept. According to Brown, "the first and most important step in taking care of your scalp while wearing braided twists styles is making sure you prep your hair and scalp with a scalp detox before your hair is braided." This gives you a healthy foundation for the hairstyle you are about to have for an extended period of time. "Remember, your scalp is an extension of your skin" says Brown. 
Another way to prevent itching and irritation later is to wash the synthetic hair before getting it installed to remove allergens that may be coating there. 
2 / 3
2. What to tell your stylist when getting braids, twists, or locs
The improper use of braids, twists, and locs can lead to balding, fungal growth, and even leave your hair worse than it was before they were installed. You want to maintain the health of your hair and scalp, so it is important to communicate with your stylist that you wish to have the braids, twists, locs done loosely, loose enough that you don't feel any tension of any kind on your scalp. Unfortunately, due to habit, some stylists will make the first braid loose, but slowly start to make them tighter to try to make the style last longer. If this happens, stop them and ask politely to make them loose.
When a protective style is installed too tightly, the tension you feel on your scalp is the nerve endings reacting to the tension. The problem is that the strain causes the blood vessels to constrict and dilate, triggering a signal to activate pain centers in your brain, and may likely cause a bad headache. This tight protective style may lead to permanent damage to your hair follicles, and over time you'll start to notice traction alopecia, meaning your hair may stop growing due to damaged follicles. Traction alopecia is a progressive condition that is primarily caused by pulling force being applied to the hair. It's best to eliminate the risks now before it's too late, as your hair will be trapped or fixed in this style for a while, and you will not have any relief until the new growth starts to grow in.
3 / 3
3. Maintain a cleansing and conditioning regimen
You should continue to keep a regimen even when your hair is in a protective style. Brown recommends shampooing your braids every two to three weeks, "use clarifying shampoo focusing on the roots to remove the dirt build-up from your scalp." Just like our bodies need regular cleaning, it is the same for our scalp. If your scalp has high sebum production or product build-up, you can wash it once a week, and the best product to use is a clarifying shampoo. Brown stresses the importance of being "gentle on the scalp" when shampooing your braids, "trying not to disrupt your braids." Wash your hair from scalp to end, with the movement going in a vertical angle, to prevent frizziness at the roots and for the protective style. 
If your stylist used extra hair/material in the braids or other protective style, use a deep conditioner after washing because the extra hair/material will soak up a lot of moisture from your real hair. With that being said, keeping your hair moisturized is very important. Spraying the style daily with a refreshing spray will also keep your hair hydrated.
4. Don't scratch your scalp
If you're experiencing itchiness, "avoid scratching the scalp with combs or finger nails because this can cause hair loss, or inflammation of the scalp," warns Sophia Emmanuel, a trichologist and stylist at Crown Worthy Inc. Oils can help tend to the dryness or irritation you're experiencing, but Emmanuel suggests avoiding applying heavy oils like castor directly to your scalp, "Heavy oils like these clog pores and encourage more dandruff by trapping dirt on the scalp." Instead, Brown recommends using ingredients like zinc, peppermint oil, tea tree oil, saw palmetto, burdock, nettle, ginger and Vitamin E. She uses these ingredients in her TRU-Balance Hair Care Scalp Care System due to their antiseptic properties that can help to remove bacteria and build-up.
5. Limit protective styling
Remember, even if your hair looks great, keeping your braids in for too long is a big no-no. Try not to wear your protective style for longer than two months, as shedding hair begins to accumulate, and you will need to get rid of it, as it can add extra stress on your hair due to the added weight. By the time you take the braids out, you will have accumulated a lot of shedded hair strands that couldn't fall out due to the protective style. 
Once you remove all your braids/twists, or other protective style, detangle in small sections. If you are not careful, many of the shedded strands may create friction with the other strands or loop around them causing them to break. Create as much slip as possible when detangling. Follow up with washing, conditioning, and moisturizing and wait a few days or more before installing new braids or a protective style to avoid your scalp from getting irritated.
Product suggestions:
What are your best tips to protect your scalp when wearing protective styles? Share them with us in the comments!