Deep conditioning is essential to keeping your hair moisturized. To your hair, a good deep conditioner is like drinking a cold glass of water at 3 a.m. But how do you choose which conditioner is right for you? One good way to decide is to categorize deep conditioners into 3 groups: expensive but worth it, hair home chef products, and holy grails that never failed us. 
Expensive but worth it
For over $35 this product promises a paraben-, sulfate-, and phthalate-free experience that reduces breakage and increases shine. The popular deep conditioner is great for refreshing hair after a vacation or constant hairdo changes.
The combination of these oils will add moisture to your curls that last well into the week. Repair is the key word here and this conditioner gives a break to hair that has been through a lot.
2 / 6
This sweet-smelling concoction is a little expensive but well worth the buy. The conditioner is great for a weekly deep condition that doesn't require a super long routine.
Coming in at just above $20, this deep conditioner is great with restoring damaged hair. Just as the name suggests, the product leaves your hair full of moisture.
3 / 6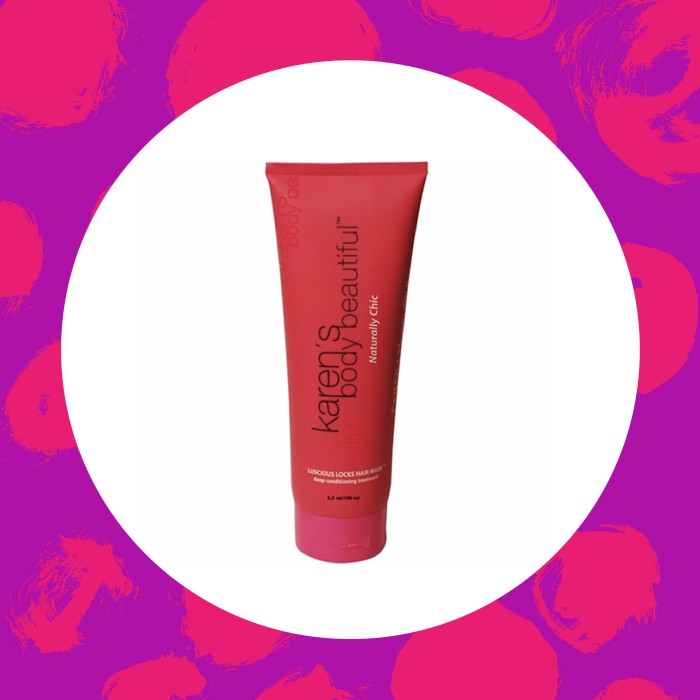 Karen's Body beautiful is a brand that combines great natural moisturizers with healthy oils. The mask is a great monthly rejuvenation for your hair and curls to bounce back after a lot of manipulation.
This soft conditioner leaves your hair just as the name suggests, dewy. It's great for all types of curls and works a little better with a shower cap and blow dry on low heat.
Hair home chef products
For under $10, this bentonite clay mixed with raw apple cider vinegar is a natural mask that leaves hair feeling soft and refreshed. Its healing powers can be used as a deep conditioner or a weekly pick-me-up for heat-damaged hair.
Aloe vera & olive oil
Your favorite Ikea desk plant could also be your new favorite conditioner. Grab some scissors, cut a piece of your plant and mix the natural aloe with olive oil. Apply on your hair and rinse after 30 minutes for best results.
Coconut oil & honey
Coconut oil is great for moisture and honey traps in all the right nutrients for your strands. Using these common household items, you can create a deep conditioner without having to make a dent in your wallet.
Eggs & mayonnaise
After a lot of blow drying and flat ironing, this trusty mixture of 2 eggs and mayo is perfect for locking moisture into your hair and stopping frizz in its footsteps. Leave on the hair for 30 minutes before washing out.
Oatmeal mix
This mixture of crushed oatmeal, honey, almond oil, olive oil, and aloe vera is essential for repairing damaged hair. The ingredients might make you hungry but this deep conditioner will definitely cause some growth if used for one hour a week.
ACV, honey, and mayonnaise
Apple cider vinegar is a favorite for curly hair. But this DIY mix can lead to super-soft and hydrated curls. This recipe is great for those with dandruff if left on the hair for up to 45 minutes.
Old faithful
4 / 6
Your local corner store is sure to have this affordable and popular deep treatment. The moisturizing recipe is great for frequent use and should be a staple for every curly to try.
This delightfully fruity conditioner is all you need for weekly conditioning. You should always keep some handy and try sitting under a low heat dryer for 15 minutes after the conditioner is applied.
5 / 6
If you have multiple textures in your hair, this deep conditioner is for you. Mixed Chicks tackles tangles that result from different curl patterns and leaves hair feeling soft.
This favorite pharmacy choice is a cheap but dependable way to make your curls bounce back. Infused with argan oil, this deep conditioner keeps moisture in without breaking the bank.
6 / 6
Dried-out hair can benefit from this Shea Moisture classic to rejuvenate what humidity may have stolen. The added biotin promotes healthy growth and shiny finishes.
Eucalyptus is a great stimulant for hair growth and the tingly after feeling will leave you wanting to play in your hair all day. The balance of the honey keeps in all the great nutrients your hair needs for healthy growth.
Check out our 2018 Editors' Choice for the best conditioners and leave a comment to let us know how it went.