First off, let me tell you I'm trying to wash my hair only about every 2-3 days. On non-washing days I love wearing my curls in any kind of (half) updo.
Cleansing: To Poo or Not to Poo
When I was new to the Curly Girl method I though I needed to stop using any kind of shampoo and only co-wash my hair. Very soon I noticed my curls starting to hang down, losing their volume and looking kind of limp – a result of being over-conditioned. That's when I decided I still needed a shampoo - the sulfate free Curl Junkie Gentle Cleansing Shampoo. It has ever since been my all-time favorite shampoo. I only use it on my hair close to the scalp and massage it in without bringing it to the ends as they usually lack more moisture than my roots.
My Favorite Moisturizers
After rinsing out the shampoo I use different kinds of conditioners to spoil my hair with enough moisture. Whenever my hair feels dry (I notice it being dry when it has gotten frizzy after my last hair wash) I use a richer conditioner like the Mop Top Daily Conditioner or the EDEN Bodyworks JojOba Monoi Deep Conditioner. I know you're supposed to apply a deep conditioner for about 30 minutes, but as my hair usually isn't lacking a lot of moisture I just leave it in my curls for about 5 minutes. The days on which my hair feels quite moisturized I'm only using the Curl Junkie Curl Assurance Smoothing Lotion and even wash it out. Yes – I rinse out the leave-in conditioner, because I really can't deal with leaving in any conditioner causing my curls to stay wet super-long.
By raking in whichever conditioner I choose is the right one, I detangle my curls – starting at the ends moving up to the roots until I can't feel any more knots. I try not to pull my curls too much, but separate the single hair strands involved in one knot with my fingers. This does take up some time, but it definitely helps prevent hair breakage. If my hair is tangled badly I use the Kinky Curly Knot Today to detangle it (the best product to detangle your curls gently!).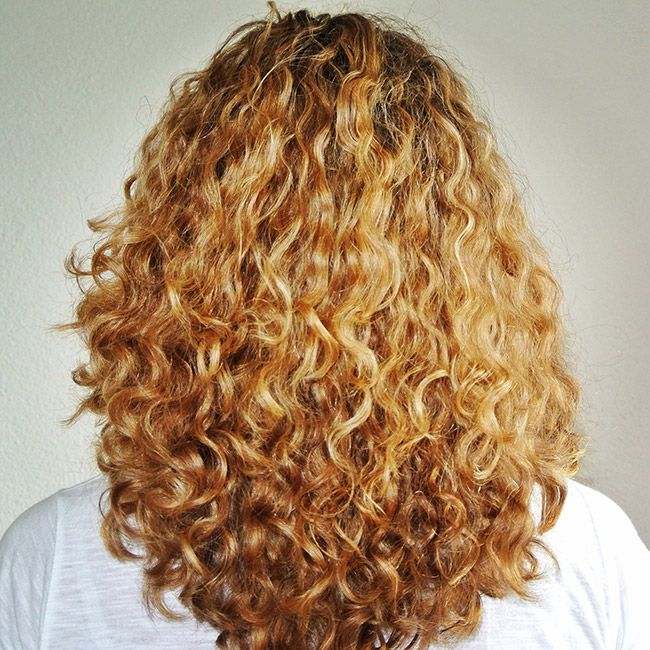 How I Get My Curls to "Clump"
As I have some troubles getting nice clumps I completely rinse out the applied conditioner and from then on I don't ever rake through my curls anymore and I only touch them with my bare hands when I'm applying a product or when they're completely dry. But getting them to be completely dry takes some more steps along the routine.
At the moment the Mop Top Anti-frizz Gel in medium hold is my favorite styler, because it doesn't weigh my curls down and still gets them to build nice, non-frizzy clumps. As I need to be careful not to break up any clumps I apply the gel by gliding along the outside of my hair. To make sure all of my curls are covered with the styler I turn my head upside-down and add some more gel by scrunching it in. I try to scrunch only about 5 times as scrunching too often destroys all the hard work on achieving nice clumps – it breaks them up! The purpose of scrunching in the styler is not only to get all curls covered, but also to get excess water out of my curls making it easier to blow-dry them.
The Best Way to Dry
I've noticed that starting to blow-dry my curls when they're still quite wet leads to more frizz as diffusing takes longer. Which is why my next step is also aimed at getting my curls drier before diffusing: I wrap an old t-shirt around my head (plopping) and leave it this way for about 10 minutes. When I take the t-shirt off my head I still use it to scrunch my curls again (now with the t-shirt, not with my hands) getting them even drier.
Then I finally start diffusing my curls upside-down until they're about 80-90% dry. I prefer blow-drying my hair upright for the last 5 minutes as to see what my curls will look like when they're dry. I always use medium heat and low air to blow-dry my curls with a diffusor to prevent them from getting frizzy.
Extra Volume
If I feel like I need to get more root volume I take about 4 normal bobby pins and put them in my hair right along the parting line. For every bobby pin I take some hair strands from each side of the parting line and put them into the bobby pin. I then wait for my hair to get totally dry, take out the bobby pins and scrunch out the crunch if I've used a styler leaving me with a gel cast. Finally I shake up my curls to get some more volume and that's it.
Read next
5 Must-Know Steps for Making 3A Curls Clump
How to Sleep & Refresh 2nd Day Curly Hair
The Drying Technique That Gives My Curls More Volume
You can follow Sandra's curly hair love story on her blog, JustCurly.
This article has been updated due to discontinued products.