My name is Crystal, born and raised in Northern Jersey. I'm a curly enthusiast, fashionista, brand influencer, blogger, and baker. But aside from all of those hobbies I have a career in styling. I am currently a Stylist for "Century21 Department Store" eCommerce stores. I work in the photo studio, where we shoot and style all merchandise and creative banners for the site. It's a perfect career for me, as I consider myself to be a creative person; which is why I also take interest in all of my hobbies, as I find them to be a creative outlet.
I've been embracing and wearing my natural curls for about 4 years now.
Before that, I constantly wore my hair straight and preferred it that way. I always thought my hair looked better when I had a blowout. It wasn't until I decided to do my research and learn how to properly care and style my naturally curly hair, that I then began to accept and embrace my hair in its natural form.
My "hair type"?
Curly Blonde Bombshell!
Haha! I love my curly locks, they are somewhere between a loose wave and a tight curl, I call them curly fries sometimes. I guess I would say I have a head full of soft, bouncy, spirally curls.
I don't typically go by the texture typing system. I usually just say I have curly hair, so I don't often get technical and use texture terms to describe my curls. I like to experiment with different hair products and routines. It doesn't matter to me if someone says a product is for a certain curl pattern--I am still going to try it for myself.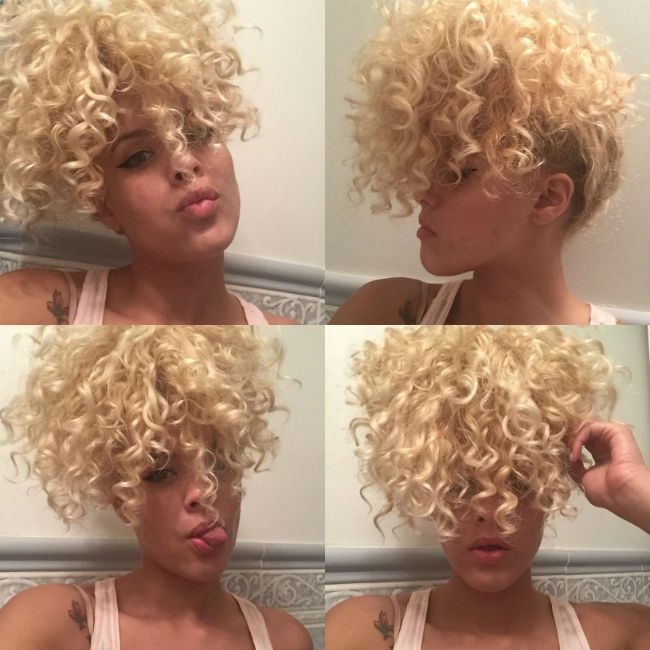 I prep for a good hair day the night before.
At night, I put my hair up into a
pineapple
. When I wake up, I take my hair out of it, flip my head upside down, and softly shake out my hair with my fingers (starting at the roots). 
If needed, I'll spritz my hair with a water bottle to reactivate the product that's already in my hair. I might also apply more of the styling product to revive my curls.
While my hair is air drying, I start my beauty routine by washing my face with my
Clarisonic
. Then, I moisturize with a face cream. I don't wearing too much makeup on my face on a daily basis (as I am prone to breakouts). Instead of using foundation, I opt for a BB Cream. I love using
Garnier's Miracle Skin Perfector BB Cream
. I also apply an eye primer on my eyelids to reduce the oiliness throughout the day. I then fill in my eyebrows a bit with my
Anastasia Beverly Hills Perfect Brow Pencil
. After, I curl my eyelashes and apply mascara. I finish off by applying a little chapstick or coconut oil on my lips to hydrate them.
If I'm feeling up for it--or have a little more time to spare--I'll add a little blush on the cheeks and do my favorite "cat eye" liner. That's my beauty routine during the week, when I have to get up early for work. I do play around with more makeup on the weekends when I have more time on my hands.
I learned how to love my features and stop trying to fit in with someone else's perception of beauty.
If I were only allowed three things on a deserted island...
The first would be my DevaCurl One Condition because it easily gets all those pesky little knots out and leaves my curls so soft. I also use it as a leave-in or a curl refresher--it works in so many different ways.
Speaking of products with multiple uses, my next choice would have to be my unrefined coconut oil. I can use it to deep condition my curly locks, or use it on my chapped lips or dried skin.
Lastly, I would need my wide tooth comb. Sometimes I'm just not up for finger detangling. Especially when my curls have decided to collide and twirl around each other creating those annoying knots that are hard to get out, but that's when my handy dandy wide tooth comb comes into play.
Throughout my journey, I learned how to embrace and accept myself for who I really am.
I've learned how to let go of some insecurities, embrace my natural features, and to love what makes me...ME! I learned how to love my features and stop trying to fit in with someone else's perception of beauty. My curly hair is part of my identity and I have learned to fall in love with that. I took the time to learn the proper ways of caring for my hair and its one of the best things I've ever done. My hair has become one of my favorite features about myself. Nothing is better than that feeling when you've finally reached the point where you now embrace something that you've tried to change for most of your life.
Keep up with me! Instagram: @Style_Dose | Blog: StyleDose.com