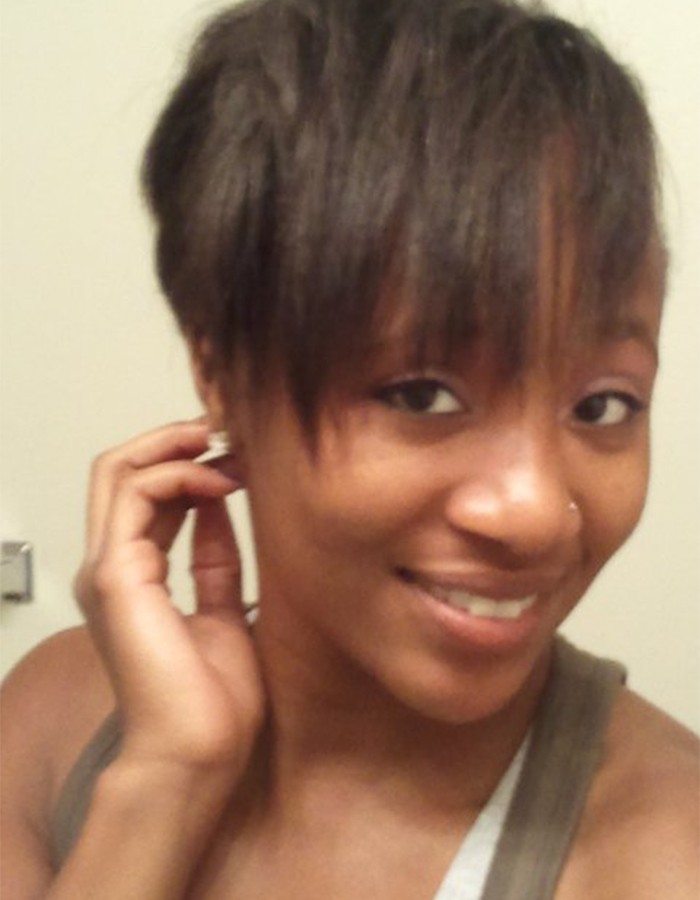 What was it like for you growing up with textured hair?
Growing up, my hair was always referred to as nappy. When I was 4, I got my first relaxer. My earliest memories of getting my hair done are of hot combs and the "Just for Me" box. I never really knew much about my hair texture. I just came to understand that it was unacceptable.
What made you decide to embrace your naturally coily hair?
Initially I didn't like my texture because it looked nothing like my favorite natural hair gurus. I did all the natural hair treatments (cherry lola treatments, coconut oil relaxer, and henna) to try to loosen my curl pattern and get my hair to "hang". It took time for me to fall in love with my texture and fully embrace the way it looks, but it all began with me learning the unique things I can do with my texture. At the time, I stopped trying to recreate styles from women with looser curl patterns than I have, and I found inspiration from women who had hair like mine. It really helped me to see the beauty in my hair texture and to stop envying the curl patterns that I do not have.
What has been the most challenging moment of your natural hair journey so far? 
The hardest times have been when my hair was in need of protein. Before I knew how to recognize it, I would be really frustrated with the fact that my hair is acting differently and that I wasn't retaining length. I would end up having to cut 3-4 inches off of my hair simply because of the damage that occurred from me not balancing my hair with moisture and protein.
How do you protect your curls at night?
I sleep on a satin pillowcase or use a satin bonnet.
2 / 3
Who is your curl crush? 
I get inspired by a lot of natural hair queens, but Safiya Aisha really helped me to learn to love my natural hair texture. A few of my current faves are @IKnowLee, @Hazel_Goddesss, @SashaBasha2, and @JascoloredCurls.
What's your curly girl essential you can't live without? 
Recently, my microwavable heat cap for deep conditioning. It's been a lifesaver in the times I don't feel like hooking up my steamer.
What is your current hair regimen? Any favorite products you'd like to share?
My current regimen is shampoo, deep condition with indirect heat or steam, leave-in conditioner, styler/gel, and then an oil. Recently I have been loving the Jane Carter Curls To Go line and the As I Am Dry and Itchy Scalp Cowash. Texture ID is also a favorite. I love their deep conditioner and it's a really affordable brand.
What has been the most empowering moment of your natural hair journey so far?
My most recent cut and color have been one of the most empowering experiences in my journey thus far. I decided to cut and color my hair for the first time to have fun and experience the freedom of being creative with my look. I was very caught up in having long hair and I believed that my influence, beauty, and value was solely rooted in the length of my hair. I was afraid to color my hair because I felt like I would lose value. Letting go of that ideology and realizing that I am more than just hair has been the most freeing and it also helped me to fall in love with the uniqueness of who I am in a whole new way. 
3 / 3
Are there any techniques or methods that have made a huge impact on your hair health?
Yes! Smoothing my hair has made a huge difference. I make sure to wash my hair in sections and smooth every product into my hair beginning with my wash routine. I utilize smoothing techniques to gently remove shed hair and also to assist the water in softening my hair. It has drastically impacted the amount of hair I lose on wash day and has also really helped my hair to be prepared for styling. I find handling my hair in sections to be the most effective for making sure it's fully de-tangled and that every strand is moisturized.
What's your advice to women who are still struggling with loving their natural texture?
There is so much beauty in your unique texture. Though the hair typing system is available to help direct us as naturals to products that can benefit our hair growth, it is not the only factor to consider for healthy hair growth. Focus on learning your hair's porosity level and density so that you can find products, routines, and healthy hair practices that promote optimum health for your hair. Healthy hair is good hair and as you begin to embrace your texture and accept it for it as it is, you can then nurture it according to its unique needs and achieve healthy hair that you love and rock confidently. Your hair is your canvas and no matter the texture there is so much versatility in natural hair.
What's your hair story? Share your story with us here to be featured in our Texture Tales series.