How would you best describe your hair?
Naturally Wavy
What is your hair type?
2c
What was it like for you growing up with textured hair?
Actually, I grew up with straight hair until I hit puberty at the age of 11. All of my immediate family has stick straight hair, so it was a bit of a shock. Needless to say, no one in my family knew what to do with my newly wavy hair. It wasn't until high school when I finally learned how to care for it!
What made you decide to embrace your naturally wavy hair?
At first, I wasn't a fan of my loose waves. I desired tighter, more defined and voluminous curls. I used a curling wand almost daily to achieve my desired look, but the maintenance was tiring. At 15, I decided to embrace what I was given, even if that wasn't much. So I started out using a curly hair conditioner and
DevaCurl Ultra Defining Gel
. While this didn't give me the ringlets I'd dreamed for at first, it helped me achieve that look in the long run. Okay, I'm a 2c, so it's as good as it's gonna get! It took a lot of effort to love, but I'm glad I decided to embrace my hair.
How have your family, friends and co-workers reacted? What was your response to them?
My dad often made comments on how I should brush my hair. He told me it would look sleek and shiny. At first, my friends made comments about how 'messy' and 'frizzy' it looked. One of my dear friends asked me often if I could straighten it, so he could see what it looked like. My own mom even made a comment about how 'uptight' my curls looked, since I made the switch to diffusing my hair and cutting it shorter. On the opposite end of that spectrum, I had a type 4 girl tell me how my hair was 'barely curly'. Each one I've dealt with in a different fashion. I try my best to ignore it and love what I've got. Because, truthfully, their opinions don't matter when it comes to my hair.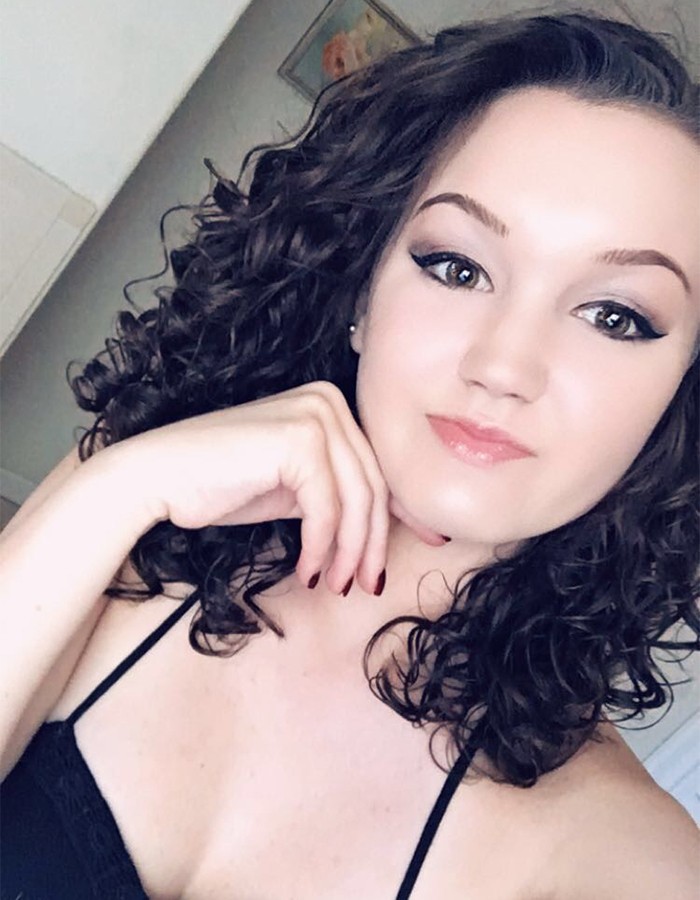 How did you transition to wearing your natural texture?
I asked my old hairdresser to cut it into layers. Not knowing how to style man hair anymore, she did what she could, recommended DevaCurl Ultra Defining Gel and off I went! This was pretty much all I did for a while. Just comb it, scrunch the gel in and go. But that wasn't enough. I finally came to the realization that my hairdresser was clueless as to my hair type, so I sought out a new hairdresser. In the meantime, I read dozens of articles about type 2 hair, how to care for curly hair, etc. I never fully tried the CG method. I follow some parts, but not all. After all, I'm still using a wide tooth comb!
What is your current hair regimen?
I shower the night before to condition, followed by a leave-in of coconut oil. My hair works better if I do this step in advance. The next morning, I hop in the shower to quickly wet my hair. Most days, I comb out my hair, put a little frizz serum on, then twist sections on the canopy of my hair. I follow this by scrunching in creams and gels. Lots of different gels. I haven't found "the one" just yet! After this, I normally plop my hair for about 40 minutes until it's time to diffuse. Halfway through the diffusing time, I scrunch in a little more gel and continue to diffuse until mostly dry. I only have to do this every 2-4 days, thankfully. On the other days, i it's do a quick refresh and I'm set.
Are there any techniques or methods that have made a big impact on the way your hair looks?
I recommend the Squish to Condish method, along with the Smasters method. My hair absorbs moisture pretty well, and has no natural hold. The Smasters method helps to keep that hold I desire. However, the biggest one would be twisting/finger curling sections of the canopy of my hair, as it does not curl up to the roots by itself. This has made the biggest impact, I find. It's time consuming, yes, but well worth the effort.
Any advice you'd like to give other women who may be in the transition phase or need some encouragement in their hair journey?
Don't give up. There are going to be days when that flat iron or curl wand look tempting. Don't do it. There's going to be times when you feel defeated by the way it looks, or maybe by someone else's comment. Keep your head up. It can get difficult sometimes, but I promise you, you'll find the right hair product, or discover a new technique along the way that completely changes your hair. Don't succumb to the "straight hair is beautiful" ploy. Curly hair is different, yes, but different is beautiful; whether you're a 2a, 4c, or somewhere in between.
What's your hair story? Share your story with us here to be featured in our Texture Tales series.