What was it like for you growing up with textured hair?
Growing up, I wanted nothing to do with my natural hair. I did everything to try and permanently straighten it. From relaxers, to keratin smoothing treatments, I did it. Not only was it too hard and thick to manage, but I loved the look of bone straight hair.
What made you decide to embrace your naturally curly hair?
I no longer had patience to sit through relaxers, so I decided to start rocking my damaged hair. Although I gave up chemicals, I still would occasionally flat iron my hair. It wasn't until I was 17 that I decided to go fully natural. I had frequent haircuts to gradually get rid of all the damage. It wasn't until I was 18 that I really started to experiment with different products to see what benefited my hair the most. Not only did rocking my natural hair become important to me, but having healthy hair became a main priority.
What has been the most empowering moment of your natural hair journey so far?
The most empowering moment of my natural hair journey has been being able to share it with others through my social media platforms like instagram and youtube. Being able to help others has changed my whole perspective of my natural hair. It has brought me to learn more than I ever knew about my hair and all different curl types.
How do you protect your curls at night?
I typically like to leave my hair down and wrap a satin scarf around it. This works best for me because I don't wake up with a stiff ponytail or anything like that.
Who is your curl crush?
Joyjah's hair is drool worthy! There are honestly so many of curl friends with beautiful textures, the list goes on!
What's your curly girl essential you can't live without?
I can't live without these super thick giant size hair elastics (Goody ouchless hair elastics) that I picked up from Target. Doesn't rip my hair and keeps it all up without a problem
2 / 3
What is your current hair regimen? Any favorite products you'd like to share?
I'm currently loving the Naturalicious line, TreLuxe Gel, and I can never go wrong with My African Pride Moisture Miracle Curling Creme.
What has been the most challenging moment of your natural hair journey so far?
I think the most challenging part of my journey has been the beginning when transitioning, which I know a lot of people can relate to. I tried to embrace it as much as possible, you have to fight through the damage to get to the beautiful!
3 / 3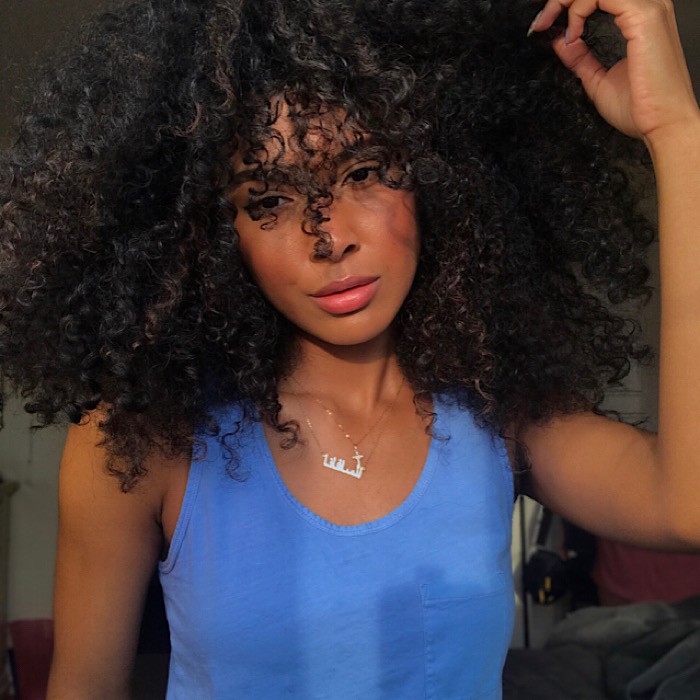 Are there any techniques or methods that have made a huge impact on your hair health?
One of the biggest things that have made a huge difference with my hair has been scalp massages! Not only are they so relaxing, but they help with growth. I typically like to use beneficial oils alone or with my deep conditioner. I use my fingers or scalp stimulating brushes.
What's your advice to women who are still struggling with loving their natural texture?
Embrace who you are and love everything about you. Most importantly don't let anyone tell you different. If you're struggling with styles, try protective styling and let your hair grow while it's being protected. Remember to not be too tight and harsh on your head and still apply oils and massage your scalp.