What is your hair type?
3a
What was it like for you growing up with textured hair?
My hair has always been a huge part of my identity. Growing up, my hair was extremely thick and long, but my mom blowdried it straight nearly every time she washed it. I kept up that practice when I started doing my own hair, at around age 12. Even with the blowdrying, my mom knew how to care for my hair. She did regular hot oil treatments, deep conditions, and trims. My hair was healthy, but I rarely wore it in its natural state.
What made you decide to embrace your naturally curly hair?
I began to embrace my curly hair when I got to college in the late 1990s. This was around the time artists like Erykah Badu, Lauryn Hill and Amel Larrieux were popular. These natural-looking women were so beautiful to me. I also went to college in Atlanta, and during this time it was a mecca for the neo-soul movement, which embraced natural beauty, hair texture, and individuality. I began to wear my natural curls.
How have your family, friends, and co-workers reacted? What was your response to them?
For the most part, people are very accepting of my natural hair. Some of my closest friends didn't even realize my hair curled so much. Many people are amazed at the texture. To this day, folks ask me if I set my hair on rollers or rods to achieve my curls!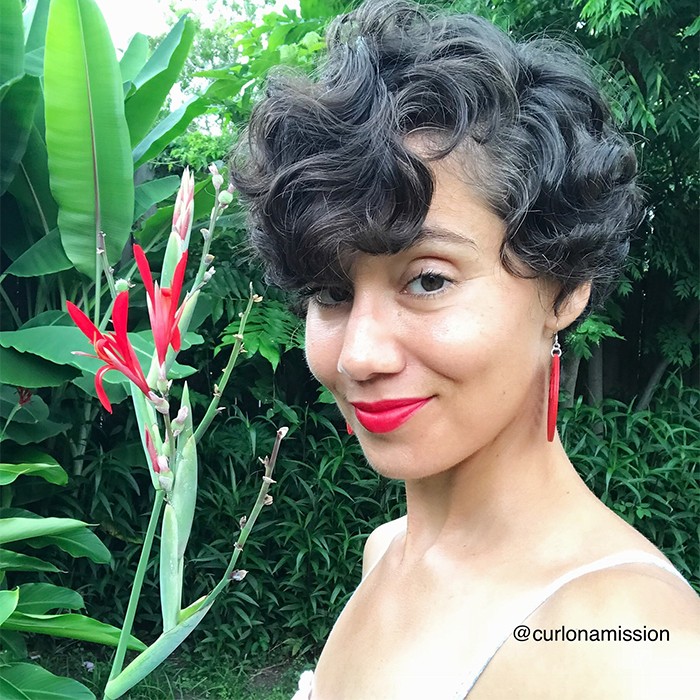 How did you transition to wearing your natural texture?
I just put down the heat tools. Thanks to my mom, I knew the fundamentals of caring for my hair, so heat was really the only thing I needed to eliminate. My curls appeared pretty quickly.
What is your current hair regimen?
I change my hair all the time. I love its versatility, but I always come back to my curls. I cut off my waist-length hair soon after I had my son and wore a pixie for a couple of years. A few months ago I decided it was time to bring back my curls, so I'm in the process of growing it out (though I am LOVING my short curly hair). I wash my hair twice a week, once with a sulfate-free shampoo and once with a co-wash, and follow with a silicone-free conditioner. I use a lightweight leave-in, and then a styling gel such as the Ouidad Climate Control Gel. I live in New Orleans where the humidity is insane so this is essential. I clarify my hair about once a month with a shampoo that contains EDTA to eliminate hard water build-up, and I deep condition weekly.
Are there any techniques or methods that have made a big impact on the way your hair looks?
For me, it's all in the daily refresh. With short curly hair, you can't hide behind a bun or braid when you have bad hair days. So I refresh my hair daily with either a refreshing spray like Ouidad's Botanical Boost or just water, depending on what my hair needs that day. I never saturate my hair. I use wet hands and just smooth frizzy, unformed curls back into place. I may add a tiny bit more gel, depending on the frizz factor. Also, I can't skip wash days.
Any advice you'd like to give other women who may be in the transition phase or need some encouragement in their hair journey?
Stick with it! Your hair can go through so many phases before it gets to a place you like. With a lot of patience, trial and error and some technique, you'll get there. Hair should be fun, and not taken too seriously. Also, don't be afraid to cut if you need to — it WILL grow back!
What's your hair story? Share your story with us here to be featured in our Texture Tales series.