With spring well underway, we're reminded that it's the season of renewal and regeneration-- and maybe curly hair transitions? We know it's not an easy process, and we've all been in a situation where our hair is transitioning from one state to another (cue all the awkwardness).
If you've been thinking about transitioning to your natural hair texture instead of the big chop, you're in luck: there are tons of products formulated for transitioning curly and textured hair.
For those of us going from a permanently straight style to our natural curls, masking those straight ends and taking care of both textures can be especially tedious. To keep your hair healthy you'll want to consider using products that will keep your hair strong and moisturized to prevent any breakage. If you're ready to take the plunge, we've compiled a list of 10 products to incorporate into your routine that will make the transition smoother, and convince you that the entire process isn't all bad.
Shampoo:
As I Am Cleansing Pudding Sulfate-Free Moisturizing Cleanser
Transitioning curlies will want to invest in a good cleanser to ensure that the foundation of the hair, the scalp, stays clean. Specifically, when you're applying various products to your hair daily on a daily basis, you'll want to have a healthy scalp to encourage healthy new hair. The As I Am Cleansing Pudding Sulfate-Free Moisturizing Cleanser provides moisture with ingredients like castor seed oil and soothes the scalp with aloe. And, of course, it's sulfate-free to ensure a gentle cleansing.
Hair Milk:
2 / 10
SheaMoisture Raw Shea Butter Extra-Moisture Transitioning Milk
This creamy textured and moisture rich hair milk is perfect for styling chemically treated hair. The moisturizing ingredients include shea butter and coconut oil.
Conditioner:
3 / 10
As I Am Hydration Elation Intensive Conditioner
Made to restore manageability to your hair, this water-based conditioner is full of herbal ingredients like green tea to stimulate the scalp and penetrate deep within the hair shaft.
Hair Mask:
4 / 10
SheaMoisture Raw Shea Butter Deep Treatment Masque
If your hair is still feeling a little dry after wash day, be sure to treat yourself with this heavy deep treatment masque. Sea kelp smoothes the cuticles of the hair, argan oil promotes strength and elasticity, and shea butter moisturizes and conditions the hair and scalp. If you're not already sold on the ingredients, the smell alone is worth it.
Hair Cream:
5 / 10
Darcy's Botanicals Coconut Lemongrass Transitioning Creme
This daily moisturizing cream is intended to help detangle new growth by softening the hair to enable manageability. Two of the biggest ingredients here are coconut oil and aloe vera topped off with the lemongrass essential oil for a fresh scent; no additional fragrances added.
Deep Conditioner:
6 / 10
Genedor Beauty Moisture Resuscitate Deep Conditioning Treatment
Similar to the SheaMoisture masque, deep conditioners are all about moisture--while masques tend to strengthen the hair. Give dry, damaged hair the life it deserves with this powerhouse of ingredients. This mixture of tropical butters (shea butter, mango seed butter, and cocoa seed butter) and oils (argan oil, jojoba oil, and more) will have your hair snapping back in no time.
Leave-In Conditioner:
7 / 10
Soultanicals Fluff-A-Licious Curl Nutritious
This product is just as lavish as the name suggests. Boasting an exotic list of ingredients like blue malva herb and calendula leaf, this Soultanicals leave-in promises to leave hair moisturized for days at a time.
Detangler:
8 / 10
Sunny Isle Jamaican Black Castor Oil Knot Free Forever Leave In Detangler
Don't go into detangling day without a solid backup. This leave-in detangler infused with jamaican black castor oil will take the stress out of detangling and save you time. Plus, it doubles as a regular conditioner.
Hair Pudding:
9 / 10
EDEN BodyWorks Coconut Shea Pudding Souffle
This all natural hair pudding incorporates ingredients like shea butter, avocado oil, and jojoba seed oil to give your hair a soft finish and reduce frizz.
Complete Hair Kit:
10 / 10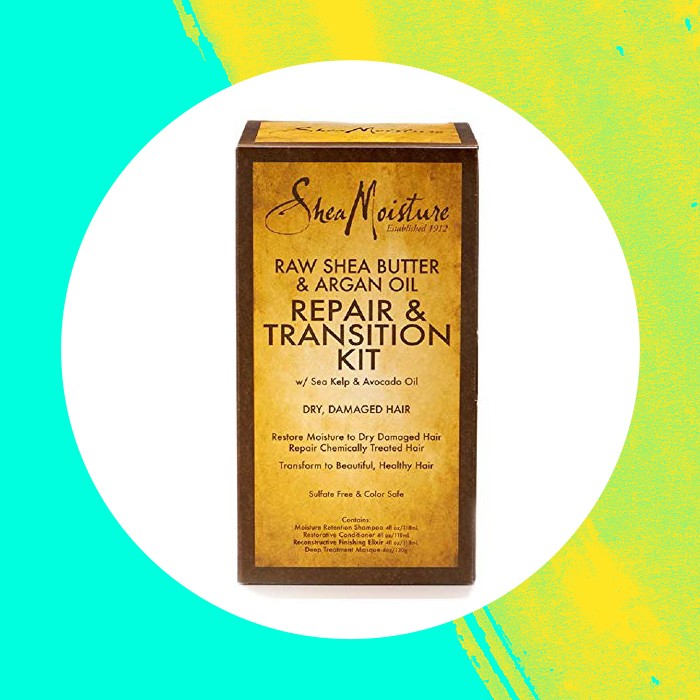 SheaMoisture Raw Shea Butter & Argan Oil Repair and Transition Kit
Looking for a convenient one-stop purchase for your transition? SheaMoisture's transition kit includes the Deep Treatment Masque, Moisture Retention Shampoo, Restorative Conditioner, and Reconstructive Finishing Elixir to get your hair journey started on the right foot.
What are your go-to products for transitioning? Was it painfully awkward, or was it a seamless transformation? Or maybe you're still going through the transitioning process. Tell us the story of your transition and the products you use in the comments.