Wavy hairstyles are excellent at creating volume and movement in the hair which makes them particularly appealing to those with finer hair textures.
When styling hair in general and fine hair in particular you want to use enough product in order to achieve moisture and hold but not so much product that hair becomes weighed down. It is also best to start with hair that is clean and damp but not soaking wet. Damp hair will allow just enough shrinkage in order for the new wave pattern to set. Hair should also be stretched in order to achieve best results when attempting wavy hairstyles. Click here for 4 heatless ways to stretch your hair.
When looking to achieve waves in the hair particular attention must be paid to the size of your sections. For looser waves use bigger sections and do the opposite if smaller waves are what you're hoping to achieve. Your hair length will be an important factor in determining the best sizing for sections. Here are 5 heatless ways to create waves.
Keep your sections on the large side depending on the length of your hair. If your hair is medium length to long then you should use no more than 8-10 flexi- rods.
Part hair so that it falls in the same manner that you want your final hairstyle to fall.

Take a medium sized section of hair. Your total sections can be anywhere from 6 to 10 depending on the length of your hair.

Install your flexi rods. You want to choose a fairly large size. 7/8" is a good size for creating waves in medium length hair.

Let set overnight and then undo your flexi rods

Separate and fluff for maximum volume or to create your desired final look
2. Headband Waves by Luxy Hair
Part your hair in the center or on your favorite side

Ensure hair is free of tangles

Place the headband on top of the hair so that it just rest on your forehead and not your edges

Take a medium sized section of hair and twirl it around your finger, creating a coil

Loop the coiled hair over the headband

Loop coil as many times as necessary depending on the length of your hair

Repeat steps  4-7 until all your hair has been coiled and looped around the headband

Let your hair completely dry and set before uncoiling and removing the headband
Note: The time this takes depends on your hair type and level of dampness. If possible, let it dry overnight.
Create a center part down the center of your head

Flat twist one side and secure the ends with a hair tie, bobby pins, perm rods or by making a small bantu knot

Create the second flat twist and secure ends.

Allow to set overnight then undo the twists and fluff
Note: You may use more than two flat twists if necessary for your hair length.
pictured: TeAmoAaron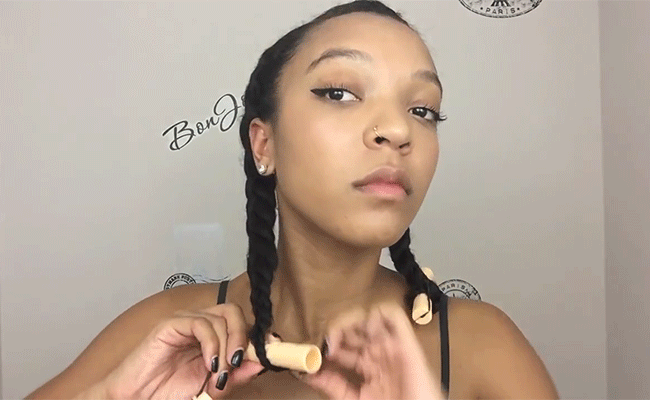 4. French Braid-Out Method by TeAmoAaron
This method requires three french braids or cornrows to be made.

Make  your parts so that your hair will fall in the direction that you want your finished look to

Create your cornrows and secure ends with perm rods

Allow to set overnight
5. Magazine Curls Method by BeautyKLove
Got old magazines lying around? No problem. Here's a great way to put those old magazines to work.  If you have hair that is particularly kinky you will want to ensure that it as a smooth as possible.
Remove a page from your magazine and fold it over on to itself an inch at a time until the entire sheet is folded.

Take a section of your slightly damp and stretched hair and wrap it around the paper as if the paper were a flexi rod.

Fold the end of the paper like you would the extra portions of a flexi rod and secure with bobbi pins

Repeat until entire head is done

Air dry overnight then undo sections

Fluff and style for desired look 
Which of the above methods are you excited to try this season?