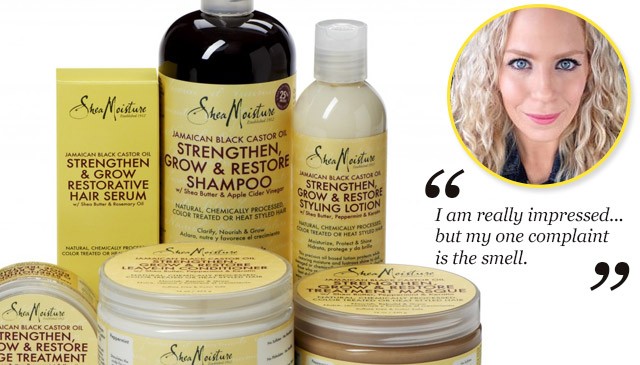 SheaMoisture is on fire releasing new lines this year. One of the lines, an exclusive to CVS stores nationwide, is the Jamaican Black Castor Oil Hair Collection. This collection contains products which address hair affected by the following:
product build-up

processing of hair with harsh chemicals

excessive heat styling damage

chemical treatments

harsh environmental conditions
The line is also being referred to as the "Strengthen, Grow and Restore" line. That alone made me want this stuff without even having more information as I am trying to grow my hair long and strong and restore the damage I do by coloring it.
The formula is ideal for all hair types and styles including dry, damaged, straightened, natural and transitioning and the products remedy breakage, dryness, and coarseness. When I read who this line was developed for, I felt my hair personally fit into so many of the categories, including dry, damaged and color treated, and I couldn't wait to test and play with this new collection.
The formula contains a proprietary blend of certified organic Shea Butter with rich fatty acids to deeply moisturize and condition, Jamaican Black Castor Oil with reparative omegas that promote healthy hair growth, Peppermint to stimulate the scalp to promote healthy growth, and other key beneficial natural and certified organic ingredients.  All of the products and sulfate free and color safe.
I am really impressed and happy with how these products perform, but my one complaint is the smell. Some of the products have a very weird, mint smell to me that I am not too fond of. BUT I am happy to report this smell is not as intense or strong when applied in the hair vs. smelling the bottle and even better, the smell doesn't linger!!
Watch my video review!
[do action="youtube-video" videoid="tHYgdDFwY-A"/]
What They Say:
Clarify, Nourish and Grow. This clarifying, sulfate-free shampoo removes product buildup, while infusing hair with moisturizing essential oils leaving locks stronger and healthier. Gentle enough for daily use. Apple Cider Vinegar aids in regulating and balancing pH levels on the scalp, while softening hair to promote enhanced growth. Rice Protein adds thickness and improves smoothness. Panthenol helps hair retain moisture.
What I Say:
I always get a wee bit nervous with clarifying shampoos because the ones of years past would dry my hair out something awful. Not this one! This shampoo left my hair feeling nice and clean, and it moisturized my hair without feeling heavy. Unlike so many clarifying shampoos where I would fear the product going on the lengths and ends of my hair, I don't mind letting this one run down my tresses to remove all the build up. The past few weekends I made it to the beach I used this shampoo to get rid of all the beach junk- sand, sunscreen, hair protectant, sweat, etc, and it did a fantastic job at it. I always wanted to try Apple Cider Vinegar on my hair, as I heard of the great cleansing and purifying benefits but was always nervous because I heard it could mess with color treated hair. I like that I finally get to try it inside this product and that the product is color safe!  Bonus, this bottle is HUGE.

What They Say:
Detangles and restores manageability to chemically processed, permed or heat styled hair, while effectively blocking humidity for frizz-free, sleek styles. Conditions and strengthens hair to help prevent breakage and split ends, while keeping the scalp hydrated and healthy. Coconut Oil protects from damage and shedding, while Panthenol helps hair retain moisture.
What  I say:
So this product is a first of it's kind for me! See, most products labeled "leave in conditioners" are not enough for me to use on my wet hair after the shower (I use them to add moisture to day 2 and 3 hair) But this one here, IT IS! The first leave in conditioner I can truly use as a leave in. The consistency is on the thinner side yet it still moisturizes my hair very well. I notice less frizz when using the leave in and I like knowing how some of the ingredients are helping to protect my hair from damage and allowing it to grow long and strong. It does also work nicely as a light moisturizer for second and third day hair. Like the shampoo, the jar is HUGE and a great deal for the value. This one is a keeper for me.

What They Say:
This conditioning styling gel controls reversion, protects against breakage and shedding, and improves manageability for chemically processed, fragile or dry hair. Fights frizz, while offering superior hold.
What I Say:
Confession--I have some edges that need some restoring. All of a sudden, I notice these "baby hairs" and shorter hairs around my hairline... It's breakage. UGH! I suppose it happens to the best of us. But I have been using this edge treatment when I wear my hair back to keep those pests from sticking out and ruining my style. I apply some of this and then wear a headband on top for a half hour. Once I remove the headband, the edges lie flat.(thanks to my friend Sarah for that how to tip!) Unfortunately, the edges do pop back up in windy conditions or after quite a few hours. On days when it is extra humid or rainy I have been taking THE SMALLEST LITTLE AMOUNT of this and smoothing it over the top layer of hair to help any unwanted frizz. It does a nice job with that, but again, I can't emphasize enough that if you are going to try that, less is more! The consistency of this is very thick and jelly like, reminds me a lot of the Coconut Oil & Hibiscus Line Curl Souffle. Out of this whole line, this is the product I would be least likely to repurchase.
What They Say:
Moisturize, Protect and Shine. This fast-absorbing lotion restores natural moisture balance to dry or coarse textures, leaving hair silky smooth. Protects hair from heat styling and adds lustrous shine. Ideal for updos, ponytails, chemically treated, heat styled hair or natural hair and braided styles.
What I Say:
LOVE this lotion! Consistency wise, it is a lot thicker than the leave-in. There have been days where after the shower I will use the leave in, then this and then a gel and although this may seem like an additional step to some, the great hair days I have had make it all the more worthwhile. This product has left my hair looking like spun blonde silk. Not only would I consider this to be my favorite in the Castor Oil Collection, but this is going up there as one of my favorite SheaMoisture products of all time. It leaves my hair soft, adds shine and like I said with some of the other products in this line, I love knowing some of the ingredients inside are helping to protect my hair and help it grow. I have been rotating this and the leave in to add moisture back to second and third day hair, both work well- I decide which to used based on how dry my hair is looking that particular day.
What They Say:
Enriched with soothing Aloe Vera, essential oils, herbal extracts and Vitamin E, this moisturizing serum restores damaged hair and helps to repairs split ends, while supporting healthy growth. Rosemary Oil stimulates scalp circulation, Safflower Oil keeps hair soft, and Olive Oil intensely hydrates and nourishes with omega oils.
What I Say:
This bottle is so small for the price but I guess it makes up for the huge bottles of shampoo and leave in. I have placed this in a spout bottle to apply to my scalp 2 to 3 times a week to massage in and leave in as my overnight scalp treatment. Though it's still too soon to notice the true effects, I haven't felt anything bad with it so I plan on keeping it up for a while. I have also taken some and applied to the lengths of my dry hair and it adds nice shine and helps frizz. This oil is nice and lightweight to be used on dry hair. It is not heavy enough for me to seal my wet hair with. The product itself is really nice, just wish it was bigger.

The Strengthen, Grow & Restore Treatment Masque, $12.99
What They Say:
With Shea Butter, Peppermint and Keratin. Restores strength and resilience to damaged, brittle and chemically treated hair. Helps promote growth by supporting hair's elasticity, breakage and shedding. Leaves hair soft, manageable and shiny. Coconut Oil protects hair from breakage, Panthenol aids in moisture retention, and Avocado Oil provides nourishment and shine.
What I say:
This is now one of my all time favorite SheaMoisture masques! The consistency is not as thick as the others, but I find this to be just as much, if not, even more moisturizing! I completely agree with the brand when they say this masque will leave the hair soft, manageable and shiny because that is exactly what it does for me. It also detangles my hair in a breeze! I don't need to use a wide tooth comb with this to detangle, my fingers do just fine. I have used this on it's own for about 20 minutes and also used it with my table top dryer and huetiful hair steamer. It performs wonderfully for me no matter how I use it. I've used it 3 times so far and still have half the jar left so I like that I don't need a whole ton of it every time I deep condition my hair. My hair soaks up masques and I don't scrimp- I feed the tresses however much they require and luckily with this they don't require a whole lot at a time, so it is nice and cost effective!  I look forward to continued use of this mask helping with breakage and damage.