You know how your hair looks just after you go swimming in the ocean? Your curls clump together with just the right amount of hold that looks sexy and effortless, and literally requires no product. But as you may have discovered by now, it can be hard to replicate that look without a curling iron... or a plane ticket.
Here's how to get volume and texture of saltwater waves without the fuss or fake look of a curling iron.
Sexy Saltwater Waves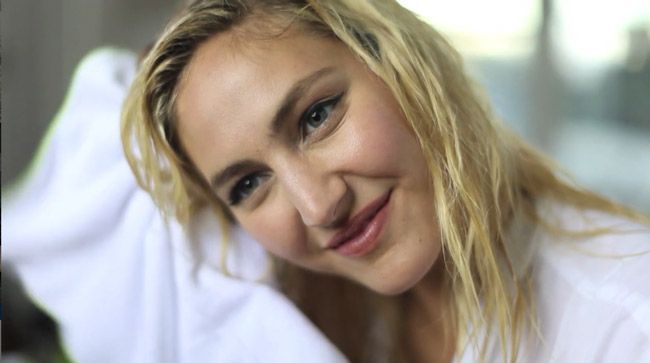 Step 1
On clean, wet hair, release as much water as possible with a microfiber towel like the DevaTowel
Step 2
Apply DevaCurl Frizz-Free Volumizing Foam to hands, rub together, and add just to roots
Step 3
Apply DevaCurl Styling Cream to hands and gently glide through hair, starting at the roots and working through mid-lengths and ends, and boost your hair upwards
Step 4
Once dry, part your hair in 4 quadrants putting each section into a ponytail.  Then divide the ponytail into 3 curls, and secure with DevaClips.
Step 5
To dry, use the DevaFuser Dryer, by putting the unique DevaFuser hand through the curls to set. Once completely dry, removes clips and bands from the hair, flip your head over, shake it out at the root and use the DevaCurl Spray Gel, working through the hair for texture and volume.
For the final touch, twist the front piece of hair to create height, and pull back with pins.
Final look
The final look is a cool, beachy texture, with a twist!
Watch the Video
DevaCurl filmed a full video tutorial, click here to watch it!
Giveaway
We are giving away DevaCurl products to 8 lucky winners if you comment below.
Eight winners will be randomly selected on Monday, February 8.
This giveaway is open to U.S. residents only, as per our Terms and Conditions.
*Please make sure you have liked us on Facebook, so that when we can notify you if you've won.
---
This article is sponsored by DevaCurl.