#1: braid extensions on 3c hair - bad reactions?
As many of you know, I am 9 mos preg and ready to give birth any day now!
My hair has changed since the pregnancy, morphing into a long mop of dry, frizzy, wavy, wiry hair. Hopefully it comes back after baby is born.
So I had an idea to get braids for the birth - to keep my hair out of my face, not have to deal with hair products, and messy hair that would result from hard labor (yes, I'm still vain even as I waddle everywhere I go). Let me preface to say that I have never gotten braid extensions so this is all new to me.
2 weekends ago, I went to a local African place to get my hair braided. I had a really hard time with the whole experience. First of all, each style I chose the braider claimed wouldn't work on my hair (my hair was too thick, too long, too soft, too curly ect) -- I think she was just lazy or unfamiliar with my hair type. She kept complaining the whole time. She said, if your hair was short and hard like mine, this would be so easy. At any rate, we settled on small cornrows going straight back. I added a little bit of the fake hair because it usually crawls out in a week if I use my own hair.
So, it took 7 hours (imagine sitting still that long being really pregnant - I was miserable). And I hated the final style. With my face being all chubby, the straight back look was not flattering (but this is my fault). My issue was with the way the braids were done - they were EXTREMELY TIGHT. I thought this was just b/c they were new and they would loosen over time.
Well, I had a headache for the next week. I also ended up getting hair bumps and little sores in my scalp from where my hair was pulled too tight. My scalp hurt and itched all the time. My thinking was I am already uncomfortable with this big belly - why am I making myself suffer more? I finally took it out last night (it took at least 6 hours off and on to take it out) and I am appreciating my frizzy,wiry hair more than ever now!
I have a few questions -
Is 3c hair so difficult to do using braid extensions? I mean, have any of you had a braider give you such a hard time like this or is it as I suspected - she was lazy?
Did you have to pay more (I did b/c my hair was deemed too long and thick)...doesn't that mean they have to use less hair?
Is it normal to have such a bad reaction? I know braids need to be tight to stay in but is it normal to have bumps and sores?
Any ideas for what can I use to help with the soreness and itchiness I have where the sores have formed?
Will I suffer from baldness in this area?
So much for trying to have an easy style for the birth..
If this is normal, how do people wear braids all the time? I felt miserable the entire time!
I hope I get some responses before dear baby arrives! TIA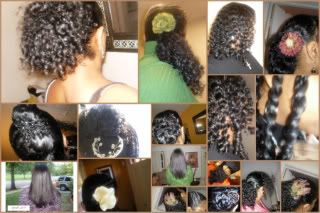 [
mini-album w/ various styles for the past 10 years of natural hair:
http://s29.photobucket.com/albums/c252/wavezncurlz/hair/
password: curlzorwavez