You will need to please excuse the horrible, horrible after bathroom pic.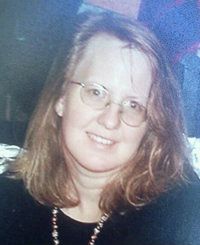 My mother and her mother both had lovely curly hair. My mother had auburn hair...gorgeous. But all of my life, she had it short and curled it old lady style.
I think the before was taken in 2008 or thereabouts....maybe a bit older. My routine back then was using something to control fly away hair in my shampoo. Something for body and volume in my product. Blow dry and style, spray, walk out the door and it was a wreck and flat as a pancake again. I always had a natural wave. I fought it all of my life. I'd style it one way and it would flip the other way. Curling brushes, curling irons, blow dryer and sooooo much product. I had a few perms. Fried my hair a few times. Dealt with damage from the perms and curling irons and I guess hair drying. I have thyroid disease and some other medical issues so it has been challenging to deal with the hair.
I came here in 2008 to try to help my curly haired dd. Her hair was eternally frizzy. She also has thyroid disease. She finally cut it very short. About that time, maybe three years ago, I started going CG. I think because I read it could help hair issues. I did it wrong for a year, I think. Then I read more and have changed my routine. I'm still getting to know it, but am branching out from my original products. My dd has noticed the difference, went modified CG and is growing he hair long again. She had it colored the other day and we did PT and DTs today. I taught her how. She was thrilled with the result!! The girl who colored it blew it dry and she had come home with fried and unhappy hair. She has happy hair now!!
I cannot tell you how much happier I am with my hair now. I know it. It loves protein. It is healthy. Last time I got it cut, the only complaint was that it was a tad dry on the ends due to diffusing. My dh loves my hair. I don't use hairspray anymore. And I don't care who doesn't like it. I like it. And I like it all day.
Ignore the face....just focus on the hair. My health has been a bit eh lately. I think all of the phone photos of me look horrid. Plus bathroom light is ick. I kind of look like a convict. In the summer, my hair is still light on the ends, but it has darkened a bit since the above photo. I never knew I had this nutty hair hiding on my head.
BTW....Ideas on curl pattern appreciated. The fat curl on the bottom left is what my dd has all over her head. Lovely fat spiral ringlets and smaller ones thrown in. People used to ask me if I curled her hair when she was small. As if I had the time!! I was also told NEVER to cut her hair or it would never grow back. Nope. Not true at all!!