#1: pixie cut pictures...
i made a post last week asking about pixie cuts. well, after a really exhausting, slightly traumatizing weekend, i think i have the haircut i want.
if you remember, after christo's on friday my hair looked like this....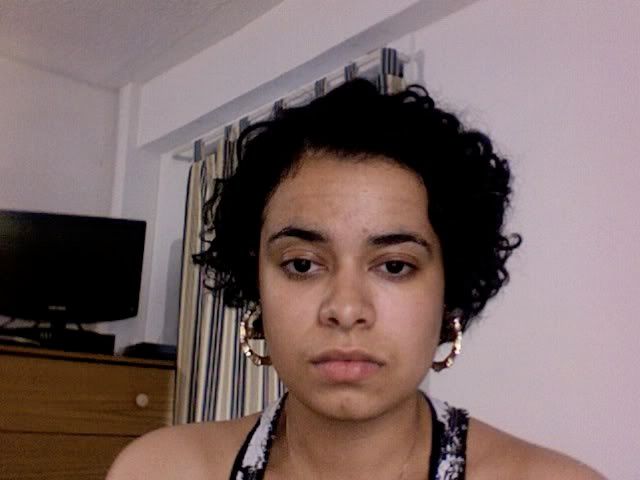 i kept trying to like it, but i woke up and it was a mess. the shape when it wasn't tucked behind my ears in the front was weird, it was sort of like corinne bailey rae's hair...and at its worst, more like tina turner's hair shape, but a mini version. yeah, yikes. (i like that shape on corinne, just not me). i washed my hair, tried to see what i could do with it, but the shape of the cut made it completely unfamiliar terrain--probably because it wasn't what i
asked for.
ANYWAY, in case anyone was wondering, i did get a refund for the haircut, but not for the biosoftening. i didn't think it was fair at all since the cut i asked for to begin with (a super short pixie) did not require a relaxing treatment costing hundreds of dollars.... but i'm still really grateful they were decent enough to give me back
something
. Moral of that story: if you know the haircuts you want, and the hairdresser tells you it's not possible or doesn't agree, just leave. if they say they're going to start off cutting slow, but it seems like they may secretly want your hair to go in a direction you didn't have in mind when you walked in, leave. unfortunately i wasn't perceptive enough, and i'm WAY TOO POLITE. now i know that no matter how many people tell you the haircut you envision "won't work," GO FOR IT. you know your hair better than anyone else.
after lots of tears, i went to salon santa cruz. i knew it was meant to be when santa, the owner, had the exact haircut i wanted, and she has curly hair! she listened to what i said, told me the cut was totally possible (obviously, she has it), and gave me what i wanted. i was out of there in no time, for one fourth of what the experience at christo's cost me.
here are some pics of the day i got it the cut from santa.
to achieve that look, santa put some gel-type stuff in my hair, brushed it with a side part, and tied some of that thin paper around the front to keep it down. (i don't know the exact name, but it's the stuff they use to hold your hair in place when you get it wrapped at the salon.) then i sat under the drier for a bit, and voila.
then today, i was looking at pics of halle berry's curly pixie, thinking, "i wonder if i can't get something similar..." so i wet my hair in the shower, put gel in, scrunched it a bit, placed the curls in the front where i wanted, and diffused for 2-3 minutes. total time was about 5 mins. it's not quite halle (cause
I'm
no halle), but i like it!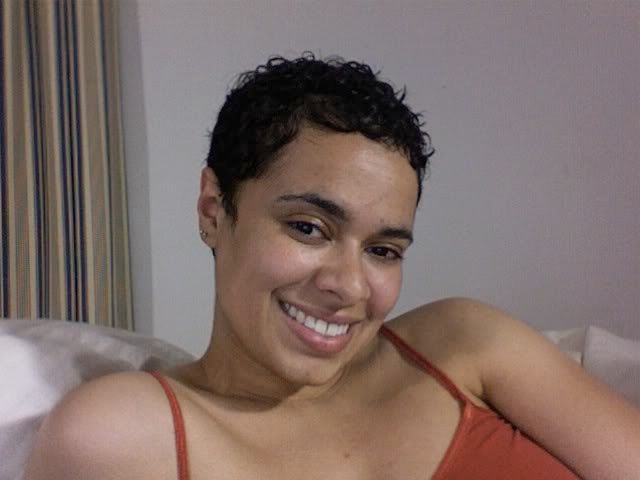 the pics are kind of awkward but i was trying to get different angles so you could get a sense of how the cut might work with your own hair, in case anyone is thinking of getting a pixie too. i should have put makeup on for these, oh well.
thanks for reading (sorry it was so long!) and for all the advice you gave. i didn't respond to every comment but i really did appreciate everyone's help!
mixed, frizzy 3B hair
twitter: @amazinglife