#1: My Spring Break Shopping/Experimenting
So I am still fairly new to being a curly girl. I thought I was doing great, I was totally in love with my curls. Then they started to just droop and go away.... turns out the conditioner had a cone in it (one of the L'oreal ones) .. dang it.. (from reading the boards I am not alone in this mistake). Oh well, I washed it out with a sulfate shampoo and started new with a conditioner from whole foods. I got the one that is called triple treat, it has tea trea oil in it. I love tea trea oil for many reasons...
It is ok, but it doesn't make my hair slippery at all... it is hard to detangle. To get my hair halfway close to slippery I have to use a LOT of it, and it is expensive. I miss the slippery hair.SO.. I decided to experiment over spring break (no one will see it if it's bad...)
I had already ordered some
KCCC
online last week, and it should be here on tuesday.
Today I went to Sally's. I came home with: the gallon of Honey and Almond Conditioner (on SALE for like $7). And two of the GVP conditioners, the tea tree oil one and the conditioning balm.
I also own and have been using the suave natural coconut as a co wash, and the herbal escences gels...
My hair is between a 2 and a 3a for most of it, with the curls on the nape of my neck being beying even tighter....... I have had quite a bit of success with plopping, and had limited success with ice queen's method for clumping, but that was about the time I realized I had silicone build up in my hair, so I figure I should try again.
Any recomendations on what to use first? and in what order???
and some pics... The first two were take a few days ago, it had been really windy and was towards the end of my day (and in the car on my phone..) Frizz is an issue for me, and the santa annas make it worse... the third is a picture taken about a year ago, when I tried to be curly (before I ever knew about curly girl, or about not brushing it.... I find I have more curls now, than then..)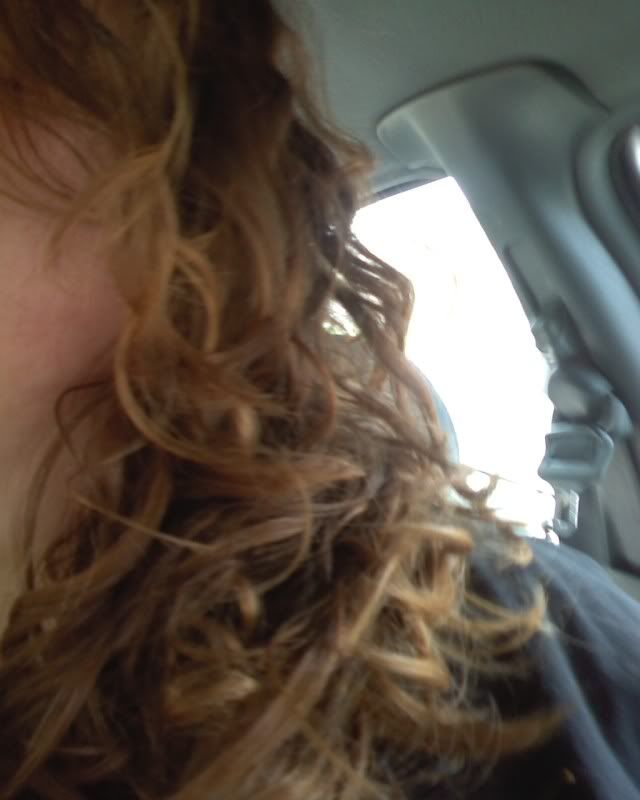 ---
Last edited by iamarenrattoo; 04-05-2009 at

02:06 PM

.