#1: How to cook in stainless steel pans and cook fish LIKE A BOSS!
Some time back Honeycurls wondered how to cook fish in stainless steel and cast iron without having it stick. I thought I'd do a little picture tutorial to show that indeed, if you just have good technique, you can easily cook in stainless pans with no sticking whatsoever. This is all done in my mother's stainless steel pan, so no special restaurant pans or anything.
Let's start with salmon. First, your fish needs to be dry. Wet food sticks to pans. So, take your fish and put it on paper towels and pat it dry. Season it well. You only need to season on the non-presentation side, which is the flesh side. Your skin side is the presentation side. It goes in the pan first and gets the better browning. It's the side that's going to be up on the plate.
This is a thick piece of fish. You need a decent coating of salt. This is why kosher salt is important. You can feel it between your fingers and you can see it when you sprinkle it.
Salmon I put black pepper on. I do not put black pepper on white fish. Not just for looks, but because the flavor of white fish is delicate and sweet. Salmon can take stronger flavoring.
Get your pan hot for a couple of minutes. You'll be able to feel the heat if you place your hand above the pan. Hot pan, cold oil. No olive oil, no butter please. You need high smoke point, which these are not. Burnt olive oil tastes pretty gross. I use sunflower oil. When the oil goes in, it should shimmer and ripple. It should not produce any real smoke. At most, just a wisp of smoke. Use enough oil that the whole pan is coated, but not so much that you're shallow-frying. The oil should not be coming up any higher than maybe 1/8 of an inch of the product.
Your fish will want to curl up a bit when it hits the hot pan, especially if you heat the pan a little too long. So, push it down for a few seconds to keep it flat until you feel it flatten out. I use my hand, but of course, use a spatula if you prefer.
Because this is a thick piece of fish, you will want to lower the heat slightly, so that it's moderate and the skin browns at a steady pace. If your heat is too high, the skin will brown but not really crisp since the layer of fat underneath it doesn't really render. So, steady heat just and leave it alone for a while. Do, swirl the pan so the oil isn't all on one side of the pan. When the fish is ready to flip, you'll know by looking at it. The sides become opaque and keep doing so until when well done, the whole top of the fish is opaque.
I flip at this point and cook the fish to medium so that it carries over to medium well and is just barely opaque all the way through. I cook it by feel, but if you want more exactitude, use a cake tester. It will go into the flesh nice and easy with no resistance when cooked through. It will also be warm if you bring the tip of the tester to your lower lip (for meat, it will slightly burn your lip at well done). A thermometer will read 145, but I never use a thermometer for fish. If you like rare or medium rare salmon, you'll need to just barely cook it a few more seconds after flipping for rare, a bit more for medium rare. For those that like well done salmon, don't flip until the fish is opaque almost all the way through while it's cooking on the presentation side.
Look, no sticking! Crisp, completely intact salmon skin!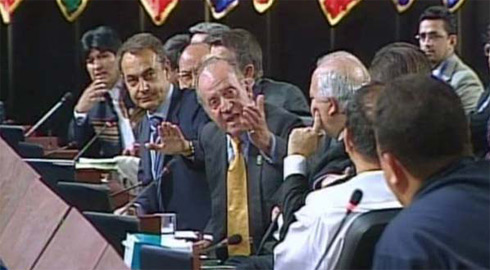 ---
Last edited by Saria; 01-12-2012 at

05:47 PM

.