#1: Yay, we got the doggie :D
I am THINKING about taking this dog (below) from my brother. Long story short - it was a stray, wandered up to a nursing home, a nurse brought it home to find a home for it, my brother was doing work on her house (he's in construction/home improvement) and she gave it to him. He took it home without asking my SIL and they really don't want a dog, but he felt bad for it. Right now I have 1 dog, around the same size; we believe she's a beagle/jack russell mix from what we've researched. She's pretty much an outside dog - we have 1.33 acres, a good portion fenced, and a separate (very large) fenced dog lot that she lives in most of the time. She used to be with another dog at my parent's house, and she gets lonely. We give her plenty of attention, bring her in sometimes (the cats just loooove this) and let her run all in the big fenced area weekends, evenings, mornings - whenever possible that we can be sure no one lets her out or gets to her.
Do you guys think this little gal would be good for my Molly to play with? They *think* she's a daschaund (sp?!) mixed with beagle? I know Bailey has daschaunds? Any info about this type of dog? She seems like a very good-natured doggie and I fell in love with her. But OMG, look at this little cutie pie!!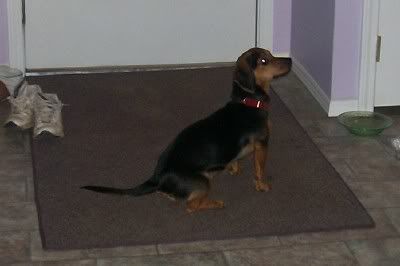 TIA!