#1: I killed the curl
Hello, I am new here, first post.
My daughter had curly hair, I am posting pics, hope that's OK, though they are small, not sure how much you can see.
Her dad id Kenyan and she has combination hair. The hair on top tends to be frizz while the hair underneath and in the back was soft and curly. The only thing that kept the curls tamed was herbal essences as a leave in conditioner, but that stopped working as her hair got longer and heavier.
Before we cut it, it was below her bottom when wet and halfway up her back when dry. We went to a Diva place and they did a horrible job. Went to a regular shop and they fixed it. But my daughter wanted it shorter, she wanted it shaved. So we went back and cut it again, short. It was OK, there was a little wave on top but the back was bone straight, as it grows in the curl is all gone but the top fluffs up, her hair is like duck hair, can hardly wet it. She wanted it cut because she hated it, I wanted it cut because there was at least 6 inches of dead hair and it was getting too heavy.
So now the curl is gone, I was seriously hoping/believing when we cut it, cared for it, and since her hair was much thicker than it was a year or two ago, that it would grow in nicely, and curly. So this is it, huh?
Left on it's own
With leave in conditioner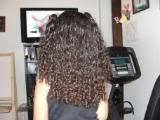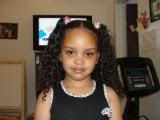 Before first cut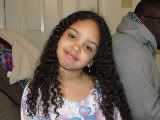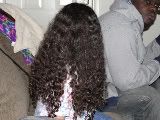 After first cut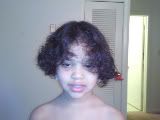 After third cut
Now