Looking for Deva....
3B
Growing out from a pixie cut. Long process but I'm getting there.
3A~fine texture
Cleanser: GiovanniTTTT, Deva Low Poo
Condish: Deva One C, GiovanniTTTT, GVP Balm
Styler: Deva ArcANGELL, HESMU, AG Mousse Gel
Want to try: CJ Gellie, Hand Dry Hair Glove, BRHG
I <3 second day hair
Call me a Curltalk Otaku. ~MirCurls
http://public.fotki.com/kellygreen49/
PW curlyhair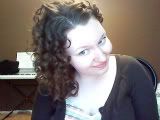 Knightess Firmus Aurum, Maid of the Mitten, Slayer of Dissertation Dragons in the Order of the Curly Crusaders
2b/medium; CG 5/20/09
Wash, co-wash, co:
Queen Helene Royal Curl Shampoo / Conditioner, Kiehl's Amino Acid Shampoo / Conditioner, Redken Fresh Curls Shampoo, CJ Daily Fix, Tigi MM
Stylers:
Sally's Neutral Protein Filler as spray, Queen Helene Royal Curl Creme, LALSG
Techniques:
Plop and Diffuse

Hair bio:
http://www.naturallycurly.com/curlta...4&postcount=97
Posting Rules

You may not post new threads

You may not post replies

You may not post attachments

You may not edit your posts

---

HTML code is Off

---
All times are GMT -6. The time now is 01:46 AM.