If the scent of chlorinated water and sunscreen sends shockwaves down your spine, it's probably because you're cringing at the thought of your curls getting soaked in pool water. This is a legitimate fear that many Naturalistas have, and I'm here to tell you that you don't have to be fearful of jumping into the pool this summer thanks to Shine 'n Jam's brand new DD Crème!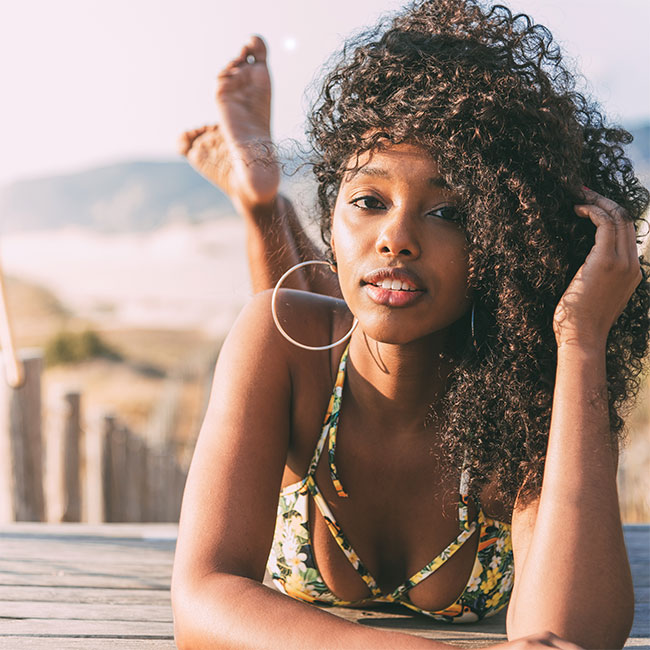 iStock -- David Prado
How To Get Soft Skin & Natural Hair This Summer with DD Creme
Use the crème as a nourishing cuticle protectant to prevent your hair from soaking in nasty chemicals from the pool that can lead to damage. According to Team EBONY, "Adding a coat of oil or protectant will aid in minimizing chlorine water penetration while moisturizing your strands."
Coat your skin in sunscreen! Don't EVER skip this step.
Since sunscreens aren't necessarily known for their ability to thoroughly moisturize those curls, shoulders, knees, and toes, you'll want to layer DD Crème on top of it. You're adding a layer of remarkable softness to your UV-Ray protected skin.
If you're jumping into the pool, make sure your hydrating DD Crème is nearby. You'll need to apply it immediately after you wash away all the pool or beach water to replenish your skin with hydrating emollients, and to #GetThatGlow!
iStock -- David Prado
Shine 'n Jam has partnered with NaturallyCurly to give you this amazing moisturizing crème that will protect your skin and your hair from the potential damage that comes with pools and beaches. We want YOU to WIN so get the details right now. Good luck!
Shine 'n Jam Summertime Community Giveaway
When
July 9, 2018 - September 30, 2018
Prize
5 lucky winners will receive:
Shine 'n Jam Shea Butter DD Crème: Dynamic Do-All Hair & Skin Creme
How to win
Enter your info in the box below! 
This giveaway is open to U.S. residents only, as per our Terms and Conditions.
You don't have to wait to protect your hair and skin with DD Crème. You can buy it right now on SHOP NaturallyCurly.
This post is sponsored by Ampro Industries, Inc.