Hi, NaturallyCurlistas of the world!
It's time to make a few adjustments to your curl regimen. Why? As you know, winter is coming.
Photo -- Tiki Giorgadze
Yet as we transition from excessive summer heat to the brisk, cold winds of winter, we need to ramp up our regimens with fall-friendly curl mists, scalp treatments, and more.
2 / 12
Photo -- Eye for Ebony
So, don't make like an autumn leaf and crunch! Stuff your online cart with these five amazing products your hair needs to make it through the fall season.
3 / 12
Photo -- Becca Tapert
Get the best fall-friendly items of the season:
4 / 12
Freshen up for fall with these 5 curly hair essentials!
5 / 12
FACT: The best thing for all curls is water 💧
When this water-based hydrating mist is spritzed onto your curls, you will notice a softness and sheen that wasn't there before. Why? Well, this mist is formulated with emollient shea butter, hair growth-stimulating sage and nettle, and soothing rosemary. It's precisely the type of curl-rejuvenating product you need for those second-day hairstyles and for general maintenance as temperatures drop.
Ready to get this mist into your life? Great! If you're one of the first 40 curlistas to purchase it, you'll receive a FREE 8 oz. bottle of Jane Carter Solution Curls to Go Un-Tangle Me! You'd better get it while supplies last, friend.
6 / 12
When we curlies think about a "lifesaver" we most likely think about the ultimate detangling, hydration, and elongation tool:Q-Redew! This handheld steamer is the perfect fall-friendly product because, as mentioned, your hair needs water to survive and thrive. What you'll love most about the steamer, in addition to how quickly it works for your hair, are the results you'll get!
If you order your new Q-Redew handheld hair steamer right away, you might be among the first 30 purchasers, and you'll receive a free Q-Redew storage bag. That means you can safely store your precious new must-have tool in your fall travel bag!
7 / 12
No matter the season, every curly girl wants beautifully defined curls that aren't weighed down by styling product. That's why you need Twisted Sista Curl Perfection Creme Gel. It's a lightweight formula that adds moisture to your strands while helping you maintain your desired curl shape and style. This gel also contains strand-strengthening keratin, a protein known for its ability to reconstruct the inner layers of the hair.
This gel also plays well with the Twisted Sista Intensive Leave-In Conditioner, the hydrating product that the first 50 people who buy the Crème Gel will receive for free!
8 / 12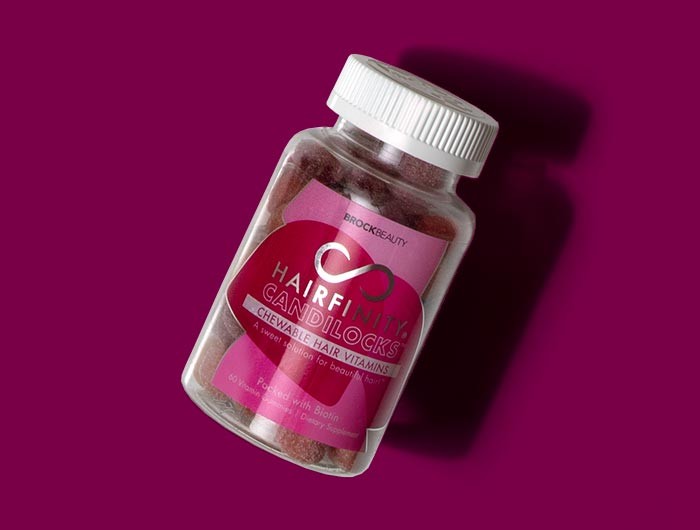 Taking care of your curls, from the inside out, is essential for every one of us. I can attest to the merits of Hairfinity hair vitamin capsules because I've taken them every day for the past year, and they've been working wonders on my hair and scalp. So, when I tried vegan-friendly Hairfinity Candilocks Chewable Hair Vitamins I was so excited to tell you about them!
First of all, they taste like gooey, dewey cherry gumdrops (except healthy). Second, they're very good for you because their key ingredients are biotin and horsetail to promote healthier, stronger, longer hair. Third, when you're among the first 50 shoppers to buy these chewable hair vitamins, you will receive a Hairfinity scalp stimulator with your purchase! Get your vitamins today and tell me what you think about them in the comments section.
9 / 12
What I love the most about fall is the slower pace of life. To me, it's as if the season causes everyone and everything to just kind of mellow out. When this happens, I like to treat myself to at-home spa days that include scalp massages and pampering my skin. The best formula I've found to help me have the greatest fall spa days ever is the certified-organic SASHAPURE Hair, Scalp & Skin Elixir.
I apply a few drops of the elixir to my hairline and all over my scalp. Then I gently massage each section with a hand-held scalp massager to stimulate hair growth and strengthen hair strands. Because the elixir contains wild-crafted ingredients, I also use it on my skin to replenish moisture and soothe my skin after a long day. If you suffer from skin inflammation, redness or if you want to reduce the appearance of stretch marks, scars, or wrinkles, I highly recommend this amazing elixir. When you buy it, you could be one of the first 40 shoppers and you will receive a free Sashapure Healing Shampoo, which I use in my fall and winter regimens!
10 / 12
Photo -- Jessica To'oto'o
Getting your curls prepared for fall doesn't have to be a drag. In fact, all you have to do is stock up on these reliable, fall-friendly products on SHOP NaturallyCurly today. With all the free swag you get with some of the purchases, you'll pat yourself on the back for being so diligent about your curls' health!
11 / 12
Photo -- Joanna Nix
This post is sponsored by Jane Carter, Q-Redew, Twisted Sista, Hairfinity, and Sashapure. Here's hoping you have a gentle transition from summer to fall.
As ever, stay curly!
12 / 12
Photo -- Hannah Grace