If you've ever found yourself frantically searching in your kitchen cabinet for bottles of aloe vera, honey 🍯or 🥥coconut oil, then you're most likely one of these types of naturalistas:
Didn't Replenish That Tub of Conditioner Connie
Why Won't My Curls Stay Hydrated Holly
Breakage is My Middle Name Natalie
In Search of a Moisture Miracle Molly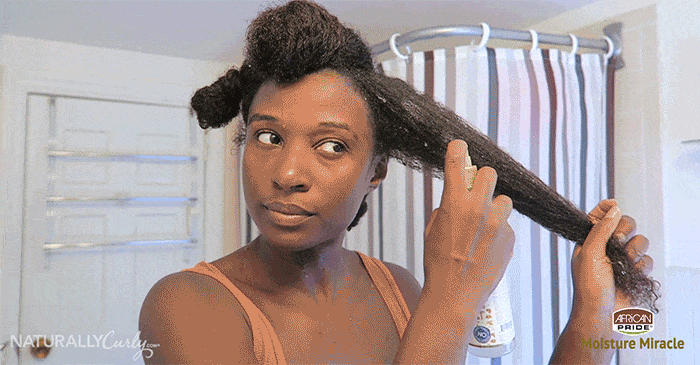 Don't worry, friend. You're not alone.
In fact, you can win the African Pride Moisture Miracle Giveaway - keep reading for details!
Admittedly, I've taken on several of these nicknames throughout my curl journey. It's no fun being in a curly drought! Luckily for you, there's a brand new collection from African Pride that I absolutely must tell you all about. It's called Moisture Miracle, and it truly lives up to its name!
Since arriving on my doorstep, I've been consistently using the African Pride Moisture Miracle Coconut Milk & Honey Leave-In Conditioner and Strengthen & Protect 5 Essential Oils from this collection for about three months. These two products help me care for my curls so easily! Both products saved my hair from being super dried out during my beach vacation, and they smell so lovely that I want to take them everywhere I go from now on.
I absolutely 💕love 💕this collection! And I know that you will, too.
Another favorite of naturalistas everywhere have been using to care for and style their hair is the Aloe & Coconut Water Pre-Shampoo. It's one of the most raved about products in the collection due to its unique texture, ingredients, and effectiveness. Watch the video to learn more about it and the complementary products in the collection.
Here's what comes in the African Pride Moisture Miracle collection that you're going to be raving about for months to come:
Care & Style
Of course, I could go on and on about how much I love every item in this collection, but I'd rather give you other perspectives. So take a few moments to learn more about Moisture Miracle with some of my all-time favorite influencers: @iamtraeh, @ohwendyoh, and @donedo!
I've been so excited to share this video and all these reviews with you because I want you to be one of the first people to try this collection. That's right, friend. I want you to WIN the entire African Pride Moisture Miracle collection today!
African Pride Moisture Miracle Giveaway
All you have to do is enter your email address in the form below. It's really just that simple!
Enter to win!
This post is sponsored by African Pride.
Feeling ready to try Moisture Miracle?
Great! Hop on over to SHOP NaturallyCurly today to give your curls the miracle treatment they deserve. Don't forget to share the love with your curl friends because we can all use a little hydration and moisture help.
Got questions about this amazing collection?
Leave me a message in the comments and follow me on Instagram @gerilynhayes for updates. You know that I love hearing from you so let's chat!
As ever, stay curly!